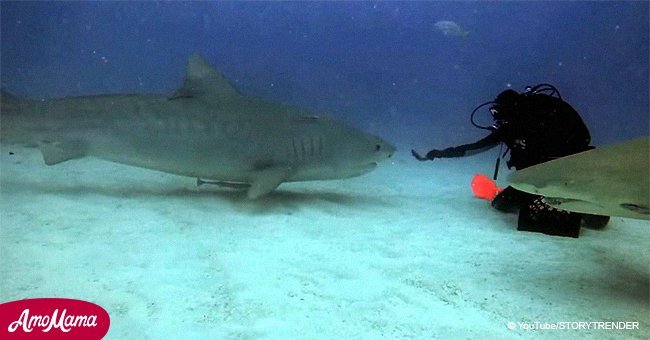 Chilling moment diver 'hypnotizes' shark and rolls it over onto its back

Diver Leigh Cobb bravely tried and succeeded to hypnotize a massive tiger shark in the Bahamas.
A footage posted to Instagram shows Cobb feeding the 16-feet tiger shark named Emma with fish and then stroking the predator's side.
The shark then rolled onto her back as the diver keeps one hand on the predator's side and another on her head.
Leigh executed a technique called "tonic immobility" that put the tiger shark into a trance.
The video shows smaller sharks staying nearby and swimming around the diver's knees as she continues the hypnosis.
Follow us on our Twitter account @amomama_usa to learn more.
A COMMON TECHNIQUE BY SHARK RESEARCHERS
Tonic immobility is a reflex that causes a state of immobility in animals - similar to that of hypnosis.
The trance-like state is triggered in sharks by stimulating the tiny sensory pores located on their snout, according to The Shark Trust.
It is often used by researchers to minimize struggling and the possibility of injury when handling them.
The chilling moment took place at Tiger Beach and was filmed by photographer and dive master Christian Torres, 41, from Ecuador.
"Diving with these majestic creatures always brings new sensations," Torres said.
He continued: "In the video, my friend and mentor Leigh Cobb, is feeding and rolling the most famous Tiger shark from Tiger Beach, Bahamas named 'Emma' who is 16ft long. I usually like photographing big animals like sharks, mantas, whales or dolphins."
ANOTHER CHILLING ENCOUNTER
This incredible encounter is reminiscent of another chilling moment when a humpback whale protected a diver from getting attacked by a shark.
Whale biologist Nan Hauser had been studying the largest animals on earth for almost three decades when she had an incredible encounter with a humpback whale while snorkeling off the coast of Muri Beach, Rarotonga, in the Cook Islands.
She had been swimming off the back of her boat near some humpback whales when they started to get ever closer to her. The whales allowed her to touch them and swam around her.
Then at one point one of the whales tucked her under his enormous fins. She panicked for a moment, thinking it was trying to kill her, and worried that even if he didn't he could seriously injure her. It turned out that there was a shark eyeing her from a short distance.
Please fill in your e-mail so we can share with you our top stories!