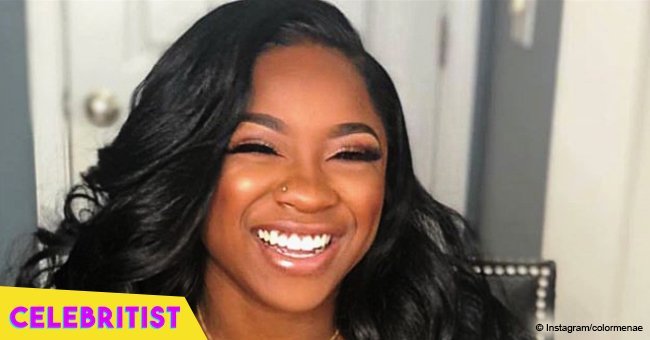 Reginae Carter & her older boo enjoy date night as they go twinning in Gucci tank tops

Reginae Carter is known for stunning in different fashion brands and posting the photos on her Instagram. In a recent picture, the 19-year-old is at it again, only this time she is joined by her older boyfriend.
In the photo shared by Lucci, the couple leaned against a red and white vehicle in head-to-toe Gucci. Reginae wore a brown tank top and denim daisy dukes with sheer stockings. She rocked the outfit with a turban, a pair of sunglasses, and trendy sneakers. Let's not forget the impressive "Double R" pendant hanging on her neck.
Lucci, 27, sported a white tank top and black knee-length shorts. The rapper wore a similar pair of sneakers as his girlfriend and flaunted a "YFN" pendant with several chains.
The lovebirds were first spotted in March this year. Their relationship was trailed by a lot of negative comments, with most people pointing out that Lucci was too old for Reginae. Others mentioned that the rapper was only using Reginae to get to her father, rapper, Lil Wayne.
Not too long after, the couple reduced their public appearances. They, however, make sure to show up once in a while to let people know they are still very much in love.
Last month, the duo came together to host a "Back 2 School Field Day" at Atlanta's Grant Park Recreation Center. Joined by Reginae's mother, reality star Toya Wright, and her grandmother, they handed out free backpacks filled with school supplies.
The charity event which was co-sponsored by Lucci's record label included other fun activities. Bracelet making, face painting, three-legged races, potato sack races, and egg spoon races were some of the day's highlights. There was also free food and ice-cream for all.
Reginae and Lucci's noble gesture brought them a ton of support from folks, and by the next day, she was on Instagram thanking everyone for their efforts towards the success of the program. She wrote:
"Yesterday was an amazing day! I wanna thank everyone for coming out and supporting #givingback"
Please fill in your e-mail so we can share with you our top stories!