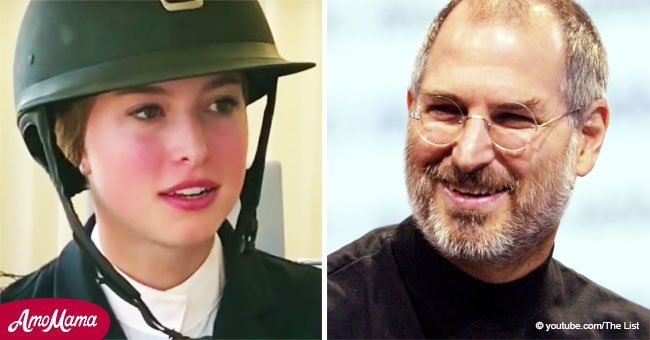 'I owe you one.' Steve Jobs' reportedly tragic deathbed-apology to his daughter
Steve Jobs' daughter wrote a memoir revealing how her father supposedly apologized to her on his deathbed in 2011.
Lisa Brennan-Jobs shared how Jobs said sorry to her after she went through a series of cruelty in her lifetime because of his father.
The 40-year-old daughter of the late Apple mogul revealed that Jobs cried hysterically in front of her during his apology.
Before passing away due to pancreatic cancer, Jobs supposedly repeated the words, "I owe you one," to his daughter.
Follow us on Twitter at AmoMamam USA for more details and updates.
In the memoir, Brennan-Jobs revealed that a couple of days before her father died at the age of 56, Jobs allegedly said to her, "I didn't spend enough time with you when you were little."
According to the Daily Mail, Jobs also refused to speak to his daughter for a decade. Throughout those years, he went so far as to ignoring Brennan-Jobs even on her birthdays.
Later on, Jobs finally revealed the reason why. As it turned out, Jobs held it against his daughter that he had not been invited to Brennan-Jobs opening day at Harvard.
Jobs was asked why he kept it a secret for a long time. Ironically, the creator of iPhones said that he was not good at communicating.
In the 40-year-old author's book called "Small Fry," Brennan-Jobs described her life as Jobs' daughter.
When she was young, Jobs never acknowledged her as his daughter. In fact, he publicly denied that Brennan-Jobs was his.
It wasn't until 1980 that he was forced to admit the truth after being subjected to take a paternity test and provide child support.
Following the case, Brennan-Jobs revealed that her father remained difficult. She said there was a "thin line between civility and cruelty."
She said Jobs was repeatedly cruel to her, her friends, and even to strangers. Brennan-Jobs remembers her father as a rude person. She revealed specific instances when her father was a savage individual in her book.
Still, despite the bumps in their relationship, Brennan-Jobs visited her father every other month on the year before he passed away.
Please fill in your e-mail so we can share with you our top stories!