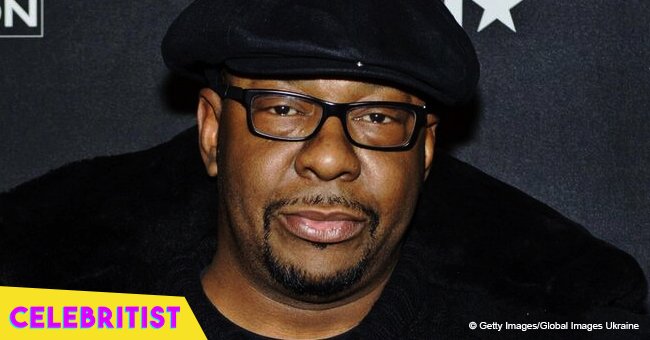 Bobby Brown hugs his little daughter on her first day of school
Bobby Brown's youngest daughter, Bodhi Brown, started school already; and while the girl was all smiles, her parents were not ready. Brown recently talked about the secret to keeping a happy marriage, amid serious accusations his sister made against his wife.
Little Bodhi Brown turned 3-year-old last July, and now she's entering school with a big smile on her face. The adorable tot looked radiant and ready to start a new adventure in pics shared to her parent's Instagram accounts.
The girl wore a pink bomber jacket, white skirt, colored thighs, and bright fuchsia boots to make a good first impression on her teachers and schoolmates. Her curly hair was styled in two cute buns on either side of her head.
Both Bobby and his wife Alicia Etheredge posed with Bodhi for the memory photo, hugging the little girl as she smiled shyly to the camera.
"Bodhi's 1st day of school @aliciaebrown #1stdayofschool #daddysbabygirl #BodhiBrown." Brown captioned the picture, while Alicia mentioned in her caption that her daughter was ready to say goodbye, but she and Bobby were not.
Fans of the New Edition took to the comment section to share their thoughts on the adorable photo and wish Bodhi a great school year. One user wrote "Have a very BLESSED school year Bodhi," another added, "Awwww love this, have fun Bodhi, and be good, lol...she is a cutie."
Bobby has been pretty busy these days handling his parenting responsibilities and managing his business endeavors. He also shares daughter Hendrix and son Cassius with Alicia, and the whole family joined the singer on the red carpet of the premiere of BET's already controversial biopic "The Bobby Brown Story."
In the film, fans get to know a bit more of the struggles Brown has faced in his life, from his problems with drug and alcohol to his relationship with Whitney Houston and the tragic loss of their only daughter, Bobbi Kristina Brown.
THE TRUTH ABOUT ALICIA AND BOBBY'S MARRIAGE
Alicia Etheredge, who met Bobbi back in the '80s and married him in 2012, is portrayed in the movie like the woman who helped Brown get back on his feet, physically, emotionally and spiritually after his split with Houston.
However, after the film was released, Brown's sister, Leolah Brown Muhammad decided to air the truth behind Alicia and Bobby's marriage with a series of accusatory posts on her Facebook account. Leolah explained that the movie doesn't portray the real relationship Alicia has with Bobby's family.
"Bobby why did you let Alicia lie like that in that movie and say she welcomed your whole family into her life!!!??? And this [expletive] literally without a little exaggeration hates for absolutely no reason every single person that carries your blood!!!???" [sic]
The angered woman also stated that she fears for her brother's life, and threatened Alicia to think twice if she believes she can do something to Brown, like "kill him," and get away with it.
BOBBY FOUND PEACE IN HIS MARRIAGE TO ALICE
Neither Bobby nor Alicia have addressed Leolah's accusations, but the couple recently visited Essence's "Yes, Girl!" podcast, where they opened about how their faith and love for each other has worked miracles in their relationship.
The 49-year-old musician explained that he and Alicia have the same beliefs. They don't choose a religion but want to believe in a "higher power." "We walk in gratitude, that's so important for us," added Etheredge. "It's really nice when you find a partner that you're in sync with on that, anything else just stops the struggle."
And Brown concluded:
"My happiness definitely comes from us falling in love, me finding real love, me finding what I needed in life to transition to the next level of the man I'm going to be. She's my peace. She's my muse. She's my everything."
Please fill in your e-mail so we can share with you our top stories!