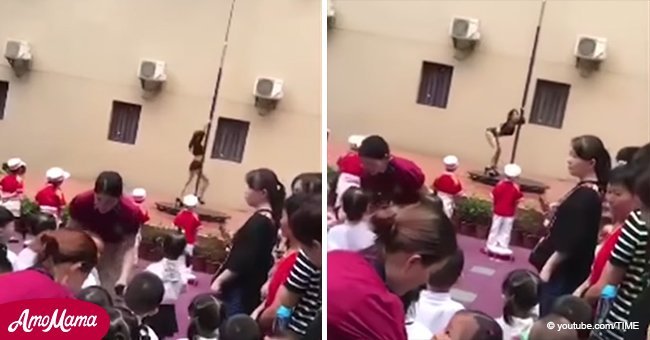 Indignation for shocking video footage of kindergarten receiving children back at school

A Chinese preschool Principal decided to welcome the students back for a new school year with a pole dance exhibition, and for this reason, she was fired, after many parents complaint and a video was shared on social media.
Around 500 children and their parents viewed the unexpected performance in the Xinshahui Kindergarten in Shenzhen, southern China, with some adults considering that the act was not appropriate for children.
American Journalist Michael Standaert, who resides in the Chinese city and whose children were students of the school in question, was the man responsible for making a video of the controversial spectacle and sharing it on Twitter.
In the clip, published by Standaert to back up his denouncement of the eccentric school Principal, named Lai Rong, a scarcely dressed dancer can be seen doing some suggestive moves on the Chinese flag's pole. Read more on our Twitter account @amomama_usa
The first Monday of September marks the start of the school year in China, and it is a tradition planning cultural events to celebrate the occasion, usually consisting in some kind of speech from teachers or remarkable former students.
But this kind of dance was the last thing Standaert was expecting to encounter at his small children's back to school ceremony. As he shared in a series of tweets expressing his indignation, he retired his children from that school.
"So before our kids got out of kindergarten for the summer, there was 10 days of military "activities" and displays of machine guns and mortars at the door; now the principal has welcomed them back with a strip pole dance on the flagpole bearing the PRC flag. She's gone nuts."
-Michael Standaert, Twitter, September 2, 2018.
Standaert went on to tell that advertisement of a pole dancing school was displayed in the preschool premises and that when his wife called Rong to complain she replied that it was "good exercise."
The day after Standaert started to tweet about the incident he disapproved so strongly, he learned that following other parents's complaints to the police, the education bureau and the media, Rong had been fired from her job.
School principals are under lots of pressure every time a new school term starts, and welcoming several preschoolers who need guidance to be introduced in school life away from their parents is no small part of their jobs.
Fortunately, year after year most of them manage to achieve this tiresome but valuable task, and the sincerity and with which Principal Gerry Brooks talks about the most difficult part of his job proves this.
Brooks shared his experiences helping new kindergartners during lunchtime in a 2016 YouTube video that went on to become very popular, been viewed almost two million times.
Please fill in your e-mail so we can share with you our top stories!