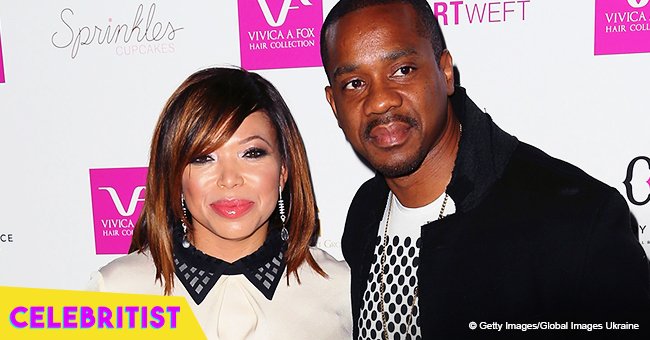 Tisha Campbell allegedly asks ex-husband to pay spousal support after revealing 'closet evidence'

In the midst of her ongoing divorce from Duane Martin, Tisha Campbell has just requested spousal support from her husband. She has no doubt he can pay her because of what's inside his closet.
TMZ has just obtained new legal documents from Tisha Campell and Duane Martin's ongoing divorce proceedings. In the latest papers filed by Campbell, she says she's struggling to pay her bills and now wants to collect spousal support from her estranged husband.
Campbell first filed for divorce in February seeking to end her 21-year-marriage to Martin and accusing him of hiding and misappropriating money in her complaint. She also sought for joint custody of their two children and requested he pay her spousal support.
Ironically, Martin also filed his own documents asking he be paid spousal support instead. However, Campbell said she was in a deeper financial hole than him and so she's the one who deserves it more.
On August 24, Campbell detailed her income and expenses to assist in her financial request. She was confident Martin could provide for her because his closet alone spells money. Campbell claimed he has more than 500 shirts at a value of $1,500 each. If you add that up, that's $750k. Campbell's proof is a video Martin made bragging about his wardrobe.
Campbell also revealed Martin earns more than $60k per month as opposed to her $7k. She also claimed her monthly expenses total around $33,000, most of which support her music career. She declared she has $1.5 million in assets but with no steady income.
Though their financial drama continues, Campbell and Martin have remained devoted to co-parenting their children. Just this month, Martin shared a video of their older son, Xen, celebrating his 17th birthday. In the clip, e was surrounded by friends and family when he blew the candles on his birthday cake. Xen was diagnosed with autism when he was only 18 months which led both his parents to be more involved in Autism awareness and advocacy. In 2011, his mother even co-produced the film, "Colored My Mind" which addressed autism among the African-American community.
Please fill in your e-mail so we can share with you our top stories!