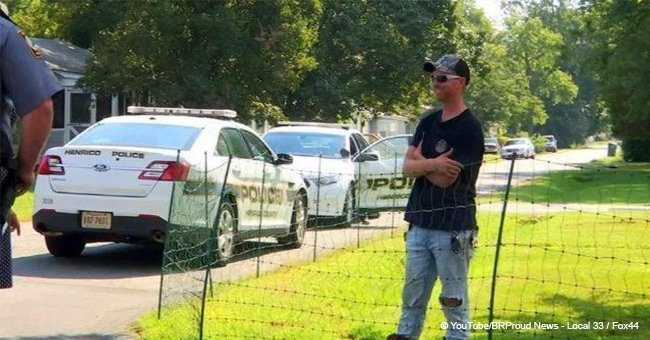 Man puts up electric fence next to a bus stop because he was 'fed up' with kids trespassing
Bryan Tucker from Henrico County, Virginia put up an electric fence around his home, which happened to be next to a bus stop. He said he was tired of kids trespassing on his property.
Many students and parents at the neighborhood were shocked upon learning the news. It had only been the start of the school year, and many of the concerned locals were alarmed for the children's safety.
Lots of students, both from middle and high school, wait for the bus at the corner of East Berry Street and South Wilson Way in Henrico.
Tucker's home is right next to the bus stop, and he had placed an electric fence surrounding his yard. It is just a few inches away from where the students usually wait for their ride to school.
Follow us on Twitter at AmoMama USA for more details and updates.
A RESIDENT SAID, "IT'S INSANE"
Tucker did not even place a sign on the fence to let the children know that there is electricity. It wasn't long until appalled neighbors called the Henrico police.
One local in the area, who did not want to reveal her name, said, "It's insane."
Another bothered parent exclaimed, "Someone said it was electric, I was like whoa."
Wayne Milby asked, "What you don't like kids? Me, I'm a parent, and I don't want any children to get electrocuted."
Speaking with WRIC, Tucker said he placed the fence around his yard because he was frustrated of the students trespassing and leaving trash on his property.
He expressed that he hoped that the electric fence was going to keep the children away from his yard.
He said, "I'm not in charge of other people's children. I'm not directing other people's children what to do. All I can do is protect myself, and that's why I've got a fence up."
NEIGHBORS CALLED THE POLICE
For the neighbors, they said the action was a little too much, which was why they asked help from the police.
Later on, Henrico Police got in touch with Public Works. They hoped to see whether the fence was placed on a county easement or not.
Tucker showed no signs of giving up and expressed that simply putting up a "no trespassing" sign would not do much in keeping children away from his property.
He said, "It says no trespassing for any purpose. Strictly forbidden. Violators will be prosecuted."
POLICE ORDERED TO HAVE THE FENCE TAKEN DOWN
According to records, the fence was placed on an easement, which meant that Tucker put up the electric fence illegally.
He was asked to take the fence down. Although, he was permitted to put the fence back up as long as he kept it at his property line.
As revealed by WRIC, Tucker's property line is at a significant distance from the bus stop.
Please fill in your e-mail so we can share with you our top stories!