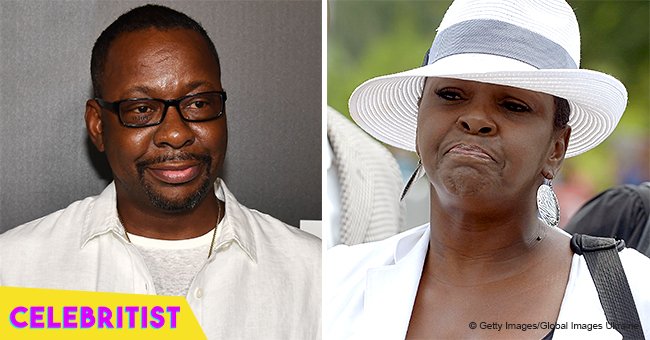 'The fakest movie I've ever seen!' Bobby Brown's sister slams 'lies' in BET biopic

Bobby Brown's sister just revealed she isn't a fan of her brother's latest biopic. She described it as full of lies especially about Brown's wife Alicia Etheredge who, she thinks is "evil" and out to kill him.
Bobby Brown's sister Leolah Brown Muhammad just lashed out on his wife Alicia Etheredge after viewing the premiere of his two-part miniseries, "The Bobby Brown Story."
Muhammad took to her social media and released her ire describing the biopic as "the fakest movie I ever seen." She claimed Etheredge was "such a liar" who hated Brown's family.
The film which in part focused on Brown and Etheredge's love story depicted Etheredge as the force behind Brown's recovery from his troubled past. It also claimed Brown's wife loved him so much and welcomed his entire family. But Muhammad begged to disagree.
In her two-part Facebook post, she laughed off insinuations about Etheredge and described her as a liar and evil.
"The fakest movie I ever seen!," she first wrote and added,
"THAT IS NOT ALICIA! PALEEEEEEEEEZ! SPARE ME THAT LAUGH! SUCH A LIAR! I'M WONDERING WHAT IS THE MOTIVE FOR ALL THIS? I READ WELL THOUGH...AND TRUST I'M NOT DUMB! LISTEN, ALICIA IF YOU THINK FOR ONE MINUTE THAT YOU ARE GOING TO KILL MY BROTHER AND GET AWAY WITH IT GUESS WHAT? ALL I CAN SAY IS YOU BETTER STAY PRAYED UP!"
Her second post minutes later was longer and was directed at her brother. She wondered why he would allow his wife to lie about welcoming his family when it's not the case.
"BOBBY WHY DID YOU LET ALICIA LIE LIKE THAT IN THAT MOVIE AND SAY SHE WELCOMED YOUR WHOLE FAMILY INTO HER LIFE!!!??? AND THIS [expletive] LITERALLY WITHOUT A LITTLE EXAGGERATION HATES FOR ABSOLUTELY NO REASON EVERY SINGLE PERSON THAT CARRIES YOUR BLOOD!!!???"
Muhammad went on to cite an incident when Etheredge wouldn't allow her husband to give his mother $17.00 for her medicine. She added,
"HELL NO I'M NOT SHUTTING UP! YOU KNOW THIS [expletive] TURNS HER NOSE UP AT ANY AND EVERY DAM BODY THAT DAM KNOWS YOU.. FAMILY FIRST!! BOBBY WHY ARE YOU ALL LYING FOR HER!??? SHE'S EVIL! YOU ARE SLEEPING WITH THE DEVIL!"
It seems Brown's film is getting more publicity than he probably expected. Following its release, talks also centered around his alleged affair with Janet Jackson which was also featured. According to the movie, the two singers had a one night stand after which Brown kicked Jackson out of the hotel room they stayed in and slammed the door on her. The film also claimed Jackson was dating someone else at the time and her family did not approve of Brown because of his skin color which ended their fling shortly.
Please fill in your e-mail so we can share with you our top stories!