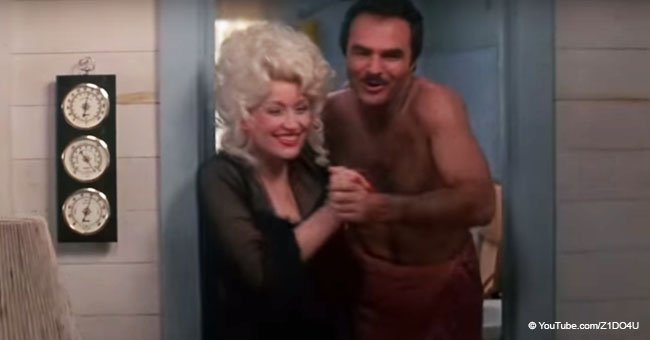 Burt Reynolds and Dolly Parton's emotional duet still bewitches us
Country singer and actor Dolly Parton spoke out after receiving news of Burt Reynolds's passing, saying she will mourn "one of our favorite leading men."
Parton and Reynolds worked together on a 1982 film titled "The Best Little Whorehouse In Texas," and the duo performed the song "Sneaking Around" in one of the scenes.
Read more on our Twitter account, @amomama_usa. A short video clip of their superb performance can be seen below.
Parton was cast in the role of brothel owner Mona Stanley while Reynolds landed the role of Sheriff Ed Earl Dodd, Stanley's love interest.
Back then, Parton said in an interview that filming it was "a nightmare." Rumors of an alleged affair between Parton and Reynolds were also doing the rounds.
Parton neither confirmed nor denied the rumors. Instead, she admits to telling the producers that she wanted more romance between their characters. She famously said:
"Wouldn't you feel like you wasted five dollars if you paid to see "Whorehouse" and you didn't see me and Burt kiss?"
Parton also added that she stuck to her decision because she wasn't "going to miss [her] chance to kiss Burt Reynolds."
Shortly after his death, Parton said: "I know we will always remember his funny laugh, the mischievous sparkle in his eyes and his quirky sense of humor."
She added: "You will always be my favorite sheriff, rest in peace my little buddy. I will always love you."
Reynolds, who is also known for his roles in "Gunsmoke," "Dan August," and "Deliverance," passed away on Thursday of a heart attack. He was 82 years old.
He had had heart problems for nearly a decade and underwent a heart bypass back in 2010, a procedure to restore blood flow to an obstructed artery.
Reynolds is survived by his former wife, Loni Anderson. They were married from 1988 to 1993 and adopted their son, Quinton Anderson Reynolds.
Before Loni, Reynolds was in a long-term relationship with actress Sally Field and was also married to Judy Carne for two years during the sixties.
Carne passed away three years ago; they had no children.
Please fill in your e-mail so we can share with you our top stories!