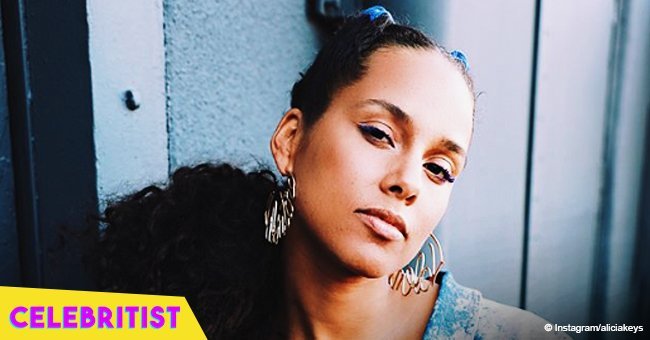 Alicia Keys flaunts her curves in Dashiki print swimsuit and sarong in pic

Singer and body positivity advocate, Alicia Keys, looked like an African queen as she modeled a beautiful Dashiki swimwear in her recent photo.
Keys, 37, looked stunning as she flaunted her curves by a seaside lounge. She wore a colorful Dashiki-print swimsuit that managed to stay modest while hugging her curves perfectly. Her equally colorful sarong stayed secure around her waist as she showed off a toned left thigh.
The "No One" singer sectioned her braids in two chunky pigtails and secured them with a black turban. She completed her look with large hoop earrings, gold arm cuffs, an anklet, and a pair of black sandals.
As always, Keys' face was void of any form of makeup. The mother-of-two who is married to music producer, Swizz Beatz, remains resolute in her refusal to bow to societal constructs of feminine beauty. She decided in 2016 to stop wearing makeup and stayed true to her decision even when she faced criticism.
Some months later, she told Allure:
"I'm not a slave to makeup. I'm not a slave to not wearing makeup either. I get to choose at [any] given moment. That's my right."
She also clarified that while she was not out to condemn anyone using makeup, she would want women to use it only because they want to, and not because someone says they should:
"I have no intention to shame anyone at all [who chooses to wear it]. No one should be ashamed by the way you choose to express yourself. And that's exactly the point. However, if you want to do that for yourself, you should do that."
In 2016, Keys' album artwork featured her makeup-free face, and the public reaction was mostly positive. The Grammy winner did not expect the words of admiration she received and said as much in an appearance on the "TODAY" show:
"I'm so moved by the connection we've shared and support I've received. …I believe this is the time of the woman. The definitive moment when we get to uncover the ideals that have been placed upon us and be who we are, as we are, in all of our beauty, depth and complexity. For me, not wearing much makeup is a metaphor for that."
You go, Alicia!
Please fill in your e-mail so we can share with you our top stories!