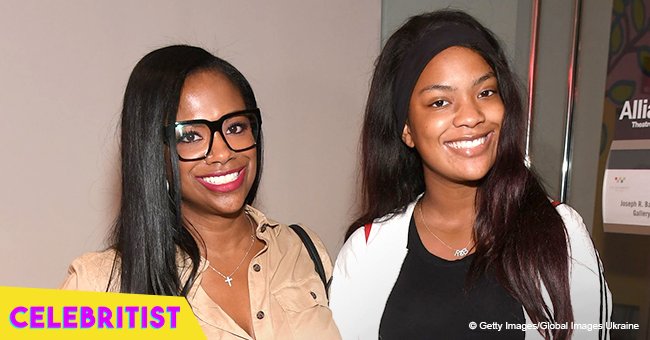 Riley Burruss shows off weight loss in tight shirt & shorts next to her pricey car in pic
Riley Burruss, the daughter of the singer and TV personality Kandi Burruss, took to Instagram to share a slideshow of herself rocking a slimmer figure.
In the three photos, Riley was wearing tiny black shorts and a tight white and red shirt while flashing her big smile in front of a white Porsche. For the caption, the 16-year-old girl wrote, "how your jacket say Porsche and you never rode a Porsche?" tagging Nicki Minaj.
That car was Kandi's present for her daughter's "sweet 16." Even though the girl's birthday was on August 22, Kandi surprised Riley one day before, on August 21.
While the vehicle was an important aspect of the image, several people noticed that Riley looked considerably slimmer compared to previous photos.
So, as soon as she uploaded that post, her followers took to the comment section to praise the teen. One of them was Instagram user @ernestinebuchanan, who pointed out that she was a beautiful young lady and that Kandi should be very proud of her.
During the last ten months, Riley has been doing her best to lose weight. As Kandi revealed, she shed 52 pounds in eight months, something that not everybody is capable of doing.
CREDIT WHERE CREDIT'S DUE
As a way to praise her daughter and encourage her in her weight-loss journey, Kandi uploaded a photo showing Riley's change from 220 to 168 pounds. Apart from that, she shared a wonderful message.
"Riley is still working out 5 days a week. I'm so proud of her dedication. Now she doesn't need help to stick to it because she's got that self discipline that I don't even have [sic]," wrote Kandi.
RILEY'S BIRTHDAY CELEBRATION
After losing all those pounds due to a rigorous fitness workout, Riley made sure to dress to impress on her birthday party, so she put on a hot pink low-cut top, a tight sequined mini skirt, and a pair of thigh-high boots.
Her makeup was on point, and her hair looked beautiful as it was let loose over her shoulders up until her hips because she ironed it to give it a different touch for the special occasion.
Please fill in your e-mail so we can share with you our top stories!