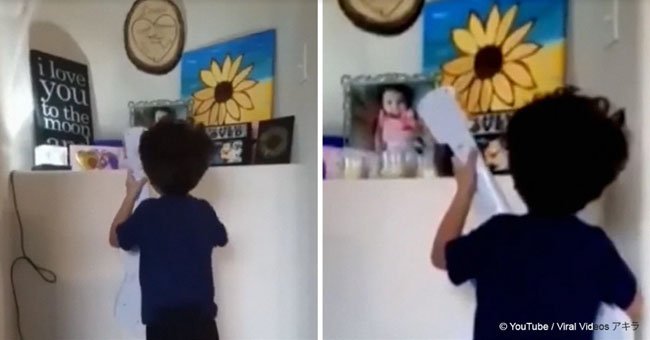 4-year-old boy sings 'Remember Me' to his late baby sister in heartwarming video

Alex was only four years old when his father, Samir Deais, recorded him singing the song "Remember Me" from the Disney film "Coco" to his late baby sister.
In the 30-second clip, Alex appeared wearing a blue shirt and black pants holding a little white guitar, singing the lyrics of "Remember Me," and playing his instrument as good as a four-year-old boy could.
Alex was in front of the altar that his parents created for their late daughter, Ava. Samir, from San Antonio, Texas, confessed that Alex did so on his sister's first birthday and that he didn't know everything was being recorded.
As Simple Most reported, the girl passed away on May 1, 2017, only four months after she was born, due to kidney disease.
One of the most astonishing aspects of the video was the song Alex selected to sing as "Remember Me" is about keeping the memories of those people love alive no matter how long they have passed away.
"Remember me / Don't let it make you cry / For even if I'm far away, I hold you in my heart," were only some of the lyrics that Alex could be heard singing during the short clip.
THE VIDEO WENT VIRAL
After Samir shared it on Twitter, several people retweeted it and, at the moment, it has more than 2 million views. As a way to thank everyone for their support, Samir sent a follow-up tweet.
"My wife and [I] were literally brought to tears seeing how much love Alex and Ava and our family has received. We were FLOORED last night!! I couldn't [be] more thankful. Thank you to everyone from our little family! What a 1st birthday baby girl!" tweeted Samir.
ANOTHER TOUCHING TRIBUTE
A bride who lost her father to pancreatic cancer just before her wedding received a wonderful surprise from her brother who recorded a song and played it for her during the father-and-daughter dance.
Instead of the bride's father, her grandfather, brothers, and father-in-law danced with her during the beautiful and touching moment.
Please fill in your e-mail so we can share with you our top stories!