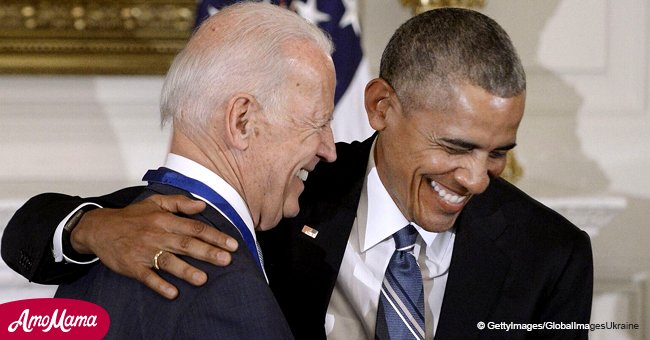 Barack Obama shares rare selfie with Joe Biden

Former President of the U.S Barack Obama took to social media to share a very special photo of himself and Biden to celebrate his return to Instagram.
The picture was posted on Saturday, September 8, 2018, and depicts the two politicians smiling widely at the camera.
The Instagram snap was an instant success and almost a million people started following Biden's account on the popular social media platform.
It is no secret that Obama and Biden have a very special relationship; ever since they were in the White House, the two have been considered the best of friends. Follow us on our Twitter account @amomama_usa to learn more.
LIKE BROTHERS
As Obama put it in the caption, the two are pretty much like brothers and have been there for each other in almost every important moment of their lives.
The former President has never been one for selfies, but he doesn't shy away when it comes to people that he has a deep connection with, and Biden is lucky to be one of them.
POSSIBLE RUN FOR PRESIDENT
The 75-year-old former Senator and Vice-President of the U.S has reportedly considered running for office in the 2020 elections but, so far, nothing else has been revealed.
He was a fan favorite back in 2016, when Donald Trump won the Presidential Elections against Hillary Clinton, but decided not to run, mostly due to the death of his son, Beau, who passed away from brain cancer.
HONORING JOHN MCCAIN
Last week, Biden and Obama were part of the funeral services of the late Senator John McCain, who, much like Beau, succumbed to brain cancer.
They both delivered speeches, each during a distinct funeral service, and so did George W. Bush, who was also invited to honor the 81-year-old war veteran. Trump, on the other hand, was specifically asked not to be present at any of the ceremonies.
Please fill in your e-mail so we can share with you our top stories!