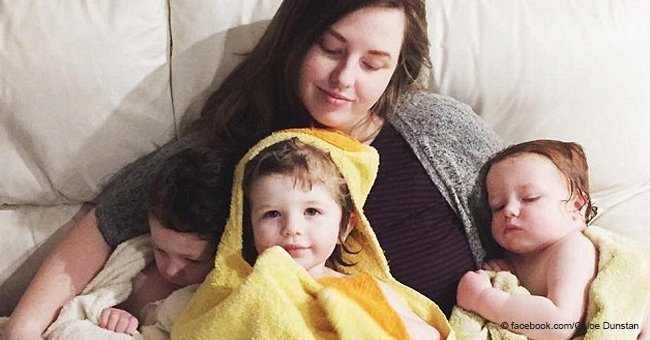 After three boys, mother wanted to try one last time for a girl
With three sons already welcomed intp the house, the couple decided they were going to try one more time to add a baby daughter to their brood.
Chloe and Rohan Dunstan were living the dream together. The couple were best friends, and had three beautiful, healthy boys to warm their home with their love and affection.
But while they already had quite a full house, they wanted desperately to have a little girl as well, just to complete the family.
Rohan was hesitant to try for another baby, knowing that the odds were still only 50-50 of having a baby daughter, but at his wife's insistence, they started trying for a fourth child.
Just a few weeks later, the pregnancy test announced the news she had been hoping for: She was pregnant again.
Although initially the couple was excited, as the weeks passed Rohan became concerned that something was wrong. His wife had much worse cravings and mood swings than she had during her previous three pregnancies, and her belly seemed to be growing much faster than before.
When they made their first trip to the doctor, they were prepared to share their concerns over everything that was so different during her fourth pregnancy.
"We went into the ultrasound, and the tech started the scan. I was looking at the screen, and I was pretty sure I could see two sacs. But I just thought 'no way.' After a little bit of scanning, she finally said to us, 'I'll tell you what I can see. I see one baby over here.' And then she quickly moves the wand over and said, 'and another baby over here.'"
The couple were shocked at the news, and concerned over the difficulty in raising two babies at the same time. But the ultrasound tech wasn't quite yet done shocking them.
"I started crying and shaking. I said, 'do you mean like, twins?!' I couldn't believe it at all. I looked at Ro, and he just looked like he had no idea what was happening. Then she moved the wand to show us something between the two babies (that) she had already shown us. She said 'and there's a third one!'"
Despite their panic at having to raise three babies all at the same time, along with their three boys, they were excited to learn that while two of the babies were boys, the third was - finally - a little girl.
Chloe carried her pregnancy through, and delivered three healthy little ones in July 2015.
Please fill in your e-mail so we can share with you our top stories!