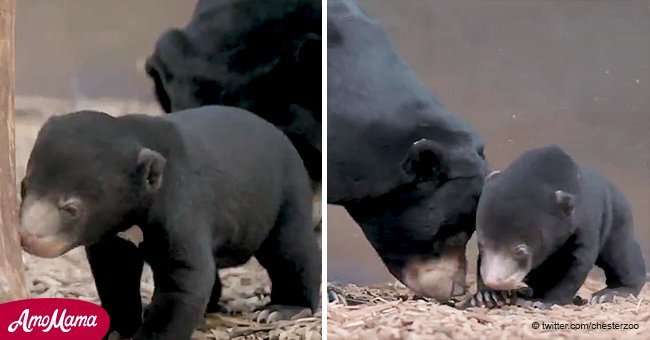 Lovely Sun Bear Cub plays on camera during public debut
The first sun bear to be the born in the UK was caught on film leaving it's den and taking its very first steps.
The patient mother stood nearby as the baby cub finally left its den for the first time and attempted to play around with mom.
According to Chester Zoo, the 12-week-old cub has not been given a name as of yet. It is currently housed at the zoo with its parents Milli and Toni.
Follow us on Twitter for more @amomama_usa.
The two were rescued in Cambodia where they were taken away from illegal wildlife traders. The conservationists of the Free The Bears organizations cared for the duo.
They moved them to the Rare Species Conservation Centre in the UK. Their journey ended when they next arrived at the Chester Zoo. There they came together and gave owners and visitors the first sun bear cub.
The zoo gives the creatures a heated indoor habitat. Curator of Mammals at Chester Zoo Tim Rowlands said of the baby:
"The new cub has plenty of enthusiasm but, at just 12 weeks old, it is still somewhat wobbly on its legs. It'll soon find its feet though and it won't be long until mum Milli really has her paws full. Her little one will quickly gain in confidence; become more and more excitable and look to explore. That's when her parenting skills will be given a new test. We're sure she'll come through it with flying colours though – she's proving to be a great mum so far."
The sun bear species is ironically the smallest species of bear in the world. There are eight in all.
Source: Youtube
In South East Asian the bears are at a high risk of being killed. Their numbers are dwindling as the years go by.
Collections Director at the zoo Mike Jordan said:
"These bears had a really tough start to life and so to now see Milli thriving with a cub is ever so special. It's the wonderful culmination of an awful lot of hard work by numerous conservationists – here and in Cambodia - who have fought to give her a brighter future. The cub is the shining beacon of light at the end of what, at one stage, was a very dark tunnel."
Unfortunately, the bears are already believed to be extinct in Singapore, a place where the species was previously found in large numbers.
Source: YouTube
Just earlier this month, another older yet still adorable bear overjoyed internet users as it appeared to be dancing while scratching its back.
Andy Williams captured the hilarious scene that sent the bear viral. Originally from New York, Williams was visiting British Columbia, Canada when he witnessed the grizzly bear in its natural habitat.
And back in June, a bear entered a liquor store in Bristol, Connecticut surprising workers and patrons alike. But a customer who entered had no idea the bear was next to him when he first walked in.
Source: YouTube
The shop's automatic door made it easy for the bear to wander into Crazy Bruce's Discount Liquor on Farmington Avenue. When he did, employees noticed and locked the inner doors.
But when the customer strolled in they had to move fast to open up those inner doors so he could come all the way in. No one was injured and the bear left soon after.
Please fill in your e-mail so we can share with you our top stories!