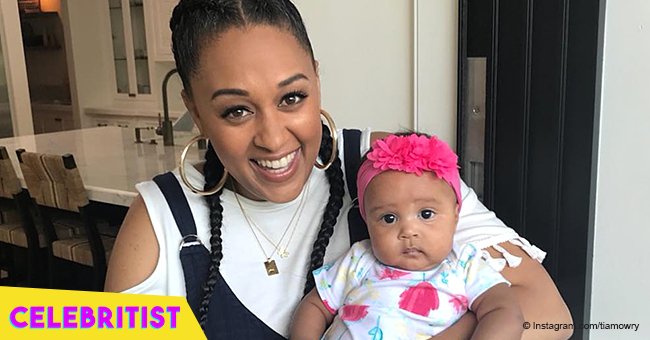 Tia Mowry's daughter steals hearts in pink dress and ribbon bow in latest photo
Tia Mowry's baby girl has been melting hearts all over social media with her cuteness. Tia, on the other hand, has been sharing with fans her struggles to snap back to her pre-baby body after a difficult pregnancy.
The "Sister, Sister" actress gave birth to baby Cairo Tiahna on May 5 but kept her identity under wraps for almost two months. When she finally introduced her to the world through an episode of her Facebook Watch series "Tia Mowry's Quick Fix," fans were immediately enraptured by the baby's cuteness.
Ever since, little Cairo has taken front and center on her mom's Instagram page, stealing hearts everytime she makes an appearance. In one of Tia's recent posts, the mother-daughter duo is posing in the middle of the pavement with a gorgeous landscape of mountains as the backdrop.
While Tia was rocking a large flowy grey dress, combat boots, and sunglasses, holding little Cairo in one arm, the tot was donning a cute pink flowery dress with a matching bow on her head.
"Just me and baby girl," Mowry captioned the pic and added a pink bow emoji for emphasis on the accessory. Fans immediately flocked her comment section with praises for the adorable duo. One user wrote "Baby girl looks like a baby doll, beautiful the two of you," and another added, "You and your daughter absolutely beautiful Tia keep shining God bless you."
TIA'S WEIGHT LOSS JOURNEY AFTER GIVING BIRTH
Even though Tia looks joyful in every single picture she shares with baby Cairo, the 40-year-old actress has admitted she's been struggling to snap back after giving birth. Her pregnancy was not as smooth as the first one, and she was diagnosed with gestational diabetes, which is a form of high blood sugar that can appear at any stage of the pregnancy an should disappear after giving birth.
Mowry, shared some workout videos and pics that show her progress in the past four months, and In an interview with E! News, she revealed that she's taking things with calm after embracing the fact that she housed a human being for nine months and snapping back is not about vanity but for health. She said:
"It's going great. For me, it's not about being vain. You know what I mean? It's not about trying to look great; it's about trying to feel great. And if that takes five to six months to a year to feel like myself, then so be it. It's not about trying to hurry up and get into the gym and get that six-pack. It's kind of like how it was with my first child. I'm just taking everything as it goes."
And while she keeps on working out to restore her figure, one of her projects from last year will be released in October.
BACK TO THE BIG SCREEN
Mowry, who also has son Cree, 7 with husband Cory Hardrict, will be returning to the big screens next month in the movie "Indivisible," where she'll embody a military wife that has to deal with all the emotional struggles war can cause in a family.
Tia is familiar with the subject, as she grew up in military bases in Germany and Texas. Her parents, Darlene and Timothy, are veteran that got married at 18 and had a long lasting career in the army.
"What attracted me to this movie is that it honors military families and their home life," she said to Black Enterprise, and added, "I dealt with everything in the army right in my backyard."
The actress has expressed her gratefulness to her mother for quitting her career in the army, and moving the family to LA just so her kids could have a career in the entertainment industry, in several occasions.
Speaking to People about her parent's sacrifices, Mowry explained that:
"My mom was in the army, and you can't just quit the army. She had to present her case to the courts." And continued "If it weren't for my mom, I wouldn't be here. She worked so hard for us."
Please fill in your e-mail so we can share with you our top stories!