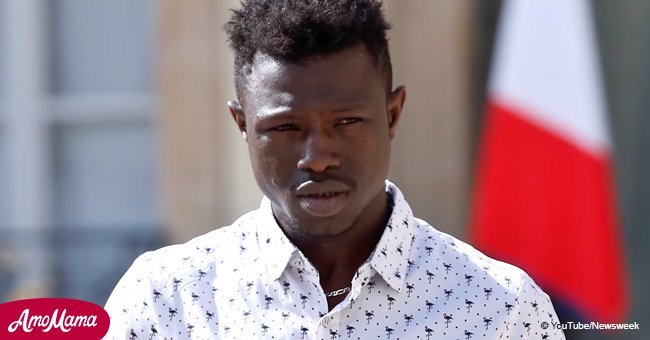 Man climbs building facade risking his life to save a child (video)

Mamoudou Gassama from Paris was hailed as a hero after he climbed up the front of a complex building to save a toddler dangling floor stories up.
The video was shared on Guardian News' YouTube channel back in May and has garnered more than 2,3 million views on that one channel alone.
Read more on our Twitter account, @amomama_usa. The nerve-wracking footage can be viewed below.
Gassama, a Malian migrant, can be seen scaling the front of the building in record time, with his bare hands, before reaching the top and pulling the toddler to safety.
French President Emmanuel Macron has since praised him for his heroic effort and offered him citizenship. The 22-year-old had been living in France for a year.
Gassama was also invited to the presidential palace and was given a medal for bravery as well as an offer to join the fire brigade.
He said in an interview that he reacted immediately without giving it a second thought. He said: "I was not thinking of anything. I went straight up."
It later came to light the toddler's parents were not at home at the time of the incident.
The mother was out of town, and the father will be questioned by authorities.
He will possibly be charged with parental neglect as he was busy with errands and "playing Pokemon Go" at the time, while his son was unsupervised.
Back in 2015 another Malian migrant named Lassana Bathily, received citizenship after her shielded a baby and several customers from a shooter.
It was initially thought that Bathily was working with the gunman, but his customers confirmed his story, saying he saved their lives.
They had to huddle in the cold storeroom where he ushered them into, hoping that the shooter wouldn't hear them.
Citizens took to social media, petitioning for Bathily to receive citizenship and his picture soon became a "symbol of the good of some people in the face of terrorism."
Please fill in your e-mail so we can share with you our top stories!