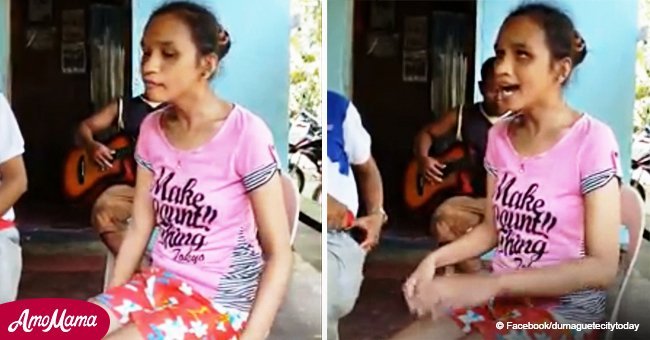 Blind girl from Philippines sings beautiful rendition of a classic

Elsie Balawing may not know how to read or write in her own language, much less in English. But she can pelt out unbelievable vocals from both American classics and modern tunes.
Balawing's age is unknown. She is from a small fishing village in the Philippines. Darrell Burnett, who posted the video found below, said that the girl was born blind and has never received a formal education. She also does not speak English.
Balawing learns a number of popular songs just by listening to and memorizing them. The results are incredible renditions. One cannot tell that she is not a native English speaker.
Follow us on Twitter for more @amomama_usa.
In the viral video that has now been shared almost 400,000 times, Balawing sings her own beautiful version of Dolly Parton's classic "I Will Always Love You."
She performs it as Whitney Houston did in 1992's "The Bodyguard."
Balawing sings every note with remarkable control despite her lack of training. Her small frame deceives the power in her voice as she strongly delivers the more dramatic parts of the song.
As she gets more into it, Balawings taps her hand on her thighs and continues the classic hit.
Burnett has a few other videos of Balawing singing Ed Sheeran's "Perfect," Ray Charles' "You'll Never Walk Alone," Pink's "Just Give Me A Reason, and Alicia Key's "Fire."
Some viewers have asserted that the girl might be a reincarnation of the legendary Houston, but it's unlikely since they probably lived at the same time.
Back in July, another naturally talented singer broke through a two-year long struggle while his son battled with liver cancer.
Michael Buble came back to the stage to perform fan favorites including "Feeling Good," "Just Haven't Met You Yet," and "Home."
The 42-year-old and his wife stayed out of the spotlight and off social media the majority of the time since the devastating diagnosis of their four-year-old son Noah.
They wanted to spend as much time with their son. But Buble felt confident enough to appear at BST in London's Hyde Park that night. Fans were surprised to see when he even brought his son up on stage.
Please fill in your e-mail so we can share with you our top stories!