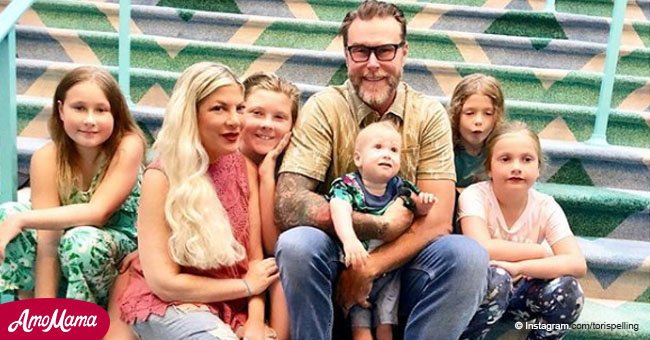 Tori Spelling shamed over her children's appearances in their back-to-school photo

The mother-of-five had her share of unsolicited criticism when she and her four older children became the target of negative opinions. The comments were so rude that she had to answer.
2018 has been a very difficult year for the 45-year-old "Beverly Hills: 90210" star Tori Spelling, following an infamous "breakdown" reportedly due to financial and marital problems, and some of her so-called fans won't let her catch a breath.
On September 7, as her four older children were about to leave the family home for her first day of their new school year, Spelling took to her Instagram account to share a fun fact about the occasion, never expecting the negativity that ensued.
As Spelling explained, this is going to be the first and only year when Liam, 11, Stella, 10, Hattie, 6, and Finn, 5, will go to the same school together, and she wanted to celebrate it with her 1 million followers.
But the snapshot that the proud mother posted in the social network caught the attention of some people who questioned the children's appearances and their mother's care of them. Read more on our Twitter account @amomama_usa
"School officially began today for my 4 older kiddos. This marks the first year that they'll all be in the same school at the same time. You know what that means? For one year and one year only, only 1 drop off = Happy Mom," she captioned the photo.
"And, Finn started Kindergarten at his new school and felt so proud to be at his big boy school with his older brother and sisters," added Spelling.
To the actress's surprise, instead of wishing the children well on a new school year, several users decided to put the mother and her children to shame because of the way their clothes, their hair, and even their bodies looked.
"I would think they would look nicer for the first day of school. That's a shame," wrote "julmsim." "A tad overweight? Are they on a good food regimen? Health is important," added "mommabearsaint13."
Thankfully, some people took the time to defend their favorite star from the hostility of "shamers." For instance "marshall0708" wrote the following:
"Please don't make bullying a norm in this country. A bully feels power when they can put someone else down because of their own insecurities. Tori ignore noise. I hope her children are treated with respect when they go off to school because their mom has just shamed them."
Seeing the negative comments taking over the comment section of her post and the many others who defended her and her children, Spelling wrote a response to the controversy.
"I am a proud mama bear and I enjoy sharing our family journey with my family, friends, fans, and online supportive and loyal community. And thank you to all the #mamabears out there. We always have each other's backs!" she started.
"For all the individuals on here that felt the need to #momshame and #kidshame me and my children I say, 'Shame on you!'" she added.
"I was raised to believe that if you can't say anything nice about someone then don't say anything at all. The judgment here should be on your manners. Empowerment goes both ways. Lift others up and you, in turn, lift yourself up."
-Tori Spelling, Instagram, September 7, 2018.
In March 2018, Spelling made the news after it surfaced that things were chaotic at the household when the police had to be called on at least two occasions.
According to Shared, her husband, Dean McDermott described her as "having a nervous breakdown." It was implied that Spelling became aggressive at one point, but nothing serious happened and the police left without further action.
Fortunately, after having hit bottom, the couple started to work things out once again, after experiencing so many ups and down, and in May, the husband and wife left their children at home to go on a romantic getaway to Hawaii.
Please fill in your e-mail so we can share with you our top stories!