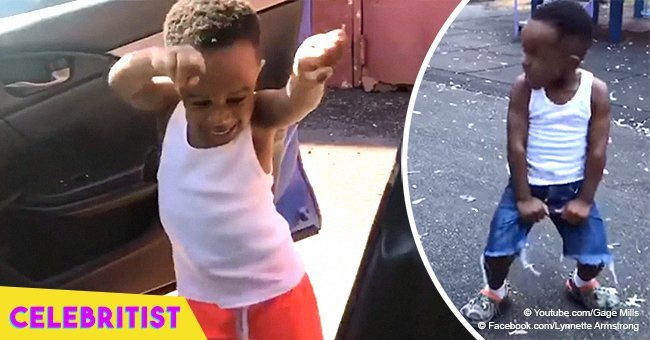 Little boy steals hearts with his dance moves to 'Wild Thoughts'
This little boy became an internet sensation last year after a video that shows him dancing to DJ Khaled's "Wild Thoughts," became viral. He's a dancer at heart and can't stop showing off he moves wherever he goes.
Little G, as his father calls him, caught the attention of people all over the world with his impromptu performance of "Wild Thoughts" in the passenger seat of his dad's car. The little boy was captured on video by his amused father, and his video has earned over three million views.
In the clip, Little G is wearing orange shorts and a white t-shirt while swaying to the music and making facial expressions that show he was really feeling the music. To his dad's amazement, the constricted space of the car was not enough for the boy, and he had to get on the pavement to keep on putting his best show.
Even DJ Khaled caught wind of the video and shared it to his Instagram account, making Little an official internet star. The music producers used the video to celebrate that the song went platinum, and captioned it:
"This my mood! Right now !! #GRATEFUL Officially PLATINUM!!!!! #WILDTHOUGHTS double PLATINUM!! @wethebestmusic !!!"
Little G has now an official Instagram account managed by his father and the boy's love for dance is unstoppable. His more than 4k followers are always amazed at Little G and his impromptu dances in the middle of the street, at Target, at his school, at the park and more. Little G doesn't know the word shyness; he's always ready to show his moves wherever he is.
The boy recently graduated from kindergarten and started preschool, and on his first day, he was already dancing in front of his school maters without a care in the world.
Fans are encouraging Little G's parents to enroll him in dance classes, as they consider the boy has potential to excel in the industry with his moves and his charisma.
If he puts some effort on it, Little G could be following the steps of 6-year-old Tavaris Jones, who became famous for his dance moves when one of his videos caught the attention of Ellen De Generes, and she invited him to the show.
The talented boy is now called to dance at NBA games' and other events, as he keeps on building his career while balancing it with school.
Please fill in your e-mail so we can share with you our top stories!