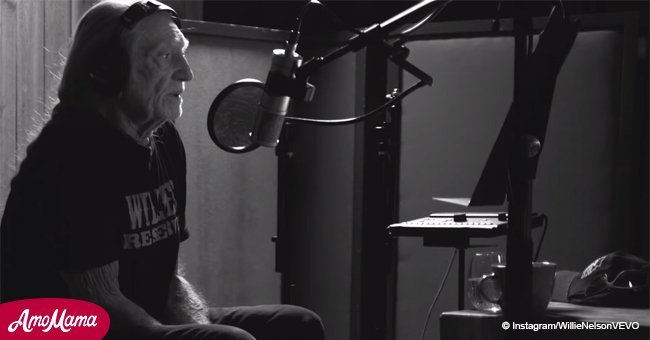 Willie Nelson releases new official video of classic Frank Sinatra cover

The 85-year-old musician, songwriter, and actor, Willie Nelson, released a new video over the weekend.
The acclaimed singer paid homage to his friend Frank Sinatra with his new video "One For My Baby (And One More For The Road.)"
The song was written back in 1940's and was originally performed by Fred Astaire. Read more on or Twitter account, @amomama_usa.
The music video can be viewed below. Wilson recently said in an interview that he admired Sinatra and learned a lot from him.
He grew up listening to Sinatra and said he was mostly attracted to his phrasing and his great voice.
Nelson also said in an interview with Billboard that Sinatra's music feels so natural to him, he sometimes forgets that they're not his songs.
Nelson also performed the iconic "My Way," and music the videos follow only five months after the release of his studio album, "Last Man Standing."
He had meant to pay tribute to Sinatra for quite some time already and said: "I'm 85 years old. If there's any better time to do it, I don't know."
Nelson has a busy month ahead and will be hitting the road again soon. He has several performances lined up for this month, including NY's Forest Hills Stadium.
When asked if there's anybody he would still like to perform with, Nelson said he'd "been lucky enough to sing with almost everybody."
Back in 2003, Nelson took to the stage with the then-unknown singer Shania Twain and the duo performed "Blue Eyes Crying in the Rain" at his 70th birthday party.
It was the same track that launched Nelson's singing career more than fifty years ago when he still worked as a songwriter.
One of his most notable tracks from back then was penning "Crazy" for Patsy Cline and "Pretty Paper" for Roy Orbison.
While fans are now used to Nelson's trademark beard and braids, he sported a clean-shaven look back then that most fans wouldn't even recognize.
A video of Nelson performing at the Grand Ole Opry back in the sixties recently went viral, and Nelson looked unrecognizable in a suit and trimmed hairstyle.
His looks have changed over the years, and his fans are grateful that he evolved into the Willie Nelson we know and love today.
Please fill in your e-mail so we can share with you our top stories!