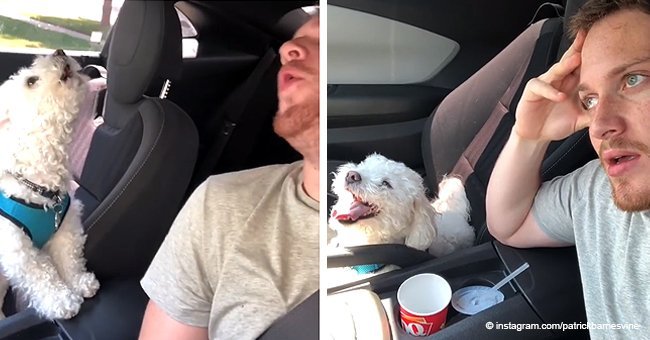 Dog owner creates a plan to find a girlfriend for his cute little dog
As soon as he tried to get his dog a new girlfriend after the last one seemingly "dumped" him, the man realized why she had left in the first place.
Patrick Barnes wanted desperately to get his dog Quincy, a Bichon Frise, some female company, but a hilarious viral video shared by Barnes to his social media accounts showed just why that may be a far sight trickier than previously anticipated.
"Quincy, we are going to find you a girlfriend. And forget about your old girlfriend. Forget about her. You've got it. Pump you up," said Barnes at the start of the video as they pulled up to the dog park in the car.
When they first arrive at the park, Quincy seems to shy to approach the other dogs. But after a while he warms up to the idea and gallops over to say hi.
As he sniffs one dog through the fence, however, things take an unexpected turn when Quincy turns his hind quarters towards the other dog and lifts his leg to pee on her!
Needless to say, that particular pick-up line wasn't exactly winning, and Barnes immediately scolds the dog for his misbehavior, and seemingly climbs straight back into the car with the naughty pooch.
Sitting in the driver's seat with a rather proud-of-himself Quincy in the passenger seat, Barnes says, " Quincy, that was embarassing. Peeing on someone is not cute or funny! No wonder she left you!"
Cue a discontented whine from Quincy, resulting in Barnes assuring him that yes, girls don't like being peed on.
Later, on the drive home, Barnes warns his precious pooch that he's never going to find a girlfriend, but that he has no sympathy when Quincy insists on urinating on the girls he meets.
Barnes and Quincy first rose to fame on the now-defunct app Vine. Since the app's collapse, Barnes has moved their antics to other social media sites, including Facebook, Instagram, and Twitter.
On Instagram alone the pair has almost half a million followers.
Please fill in your e-mail so we can share with you our top stories!