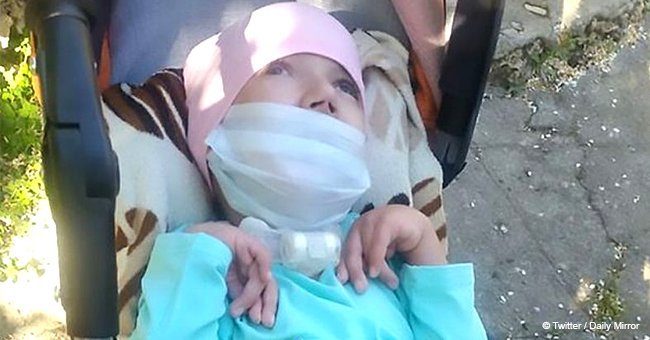 Girl, 6, who was bitten by her mum dies a year after being adopted
After being brutally assaulted by her own mother three years ago, she has suddenly died of completely unrelated causes.
In 2015, Katya Spesivtseva, who was just six years old at the time, was assaulted by her 33-year-old mother, Ludmila, who wanted the little girl to stop crying. Instead of trying to comfort her disabled daughter, she bit the child's lips clean off.
The mother, from Revda in west-central Russia's Sverdlovsk Oblast region, had first approached her daughter's crib screaming at her to be quiet, and when that didn't work she started beating the child, only to have Katya cry louder.
Katya, who suffers from cerebral palsy, had started crying in the middle of the night, angering her short-tempered mother.
After her mother's brutal assault, the six-year-old spent several days in agonizing pain before her mother called the ambulance to care for her child.
Once she was finally at the hospital, doctors realized Ludmila had also tried to bite her daughter's nose. Aside from the bite marks, Katya also had many bruises on her body, both old and new.
For a year, Katya was moved between hospitals where she received treatment for her myriad of health issues and injuries, and doctors discovered she also had a number of other underlying diseases that had not been contracted due to her mother's poor care.
Following that, it seemed the little girl had finally found a proper loving, caring home when she was adopted by Anna Makarova-Bespalova from the Black Sea resort town of Anapa.
For her assault on her daughter, Ludmila was sentenced to four years in prison.
Sadly, Katya's story doesn't have a happy ending. Just a year after being adopted, the little girl has passed away from heart failure at the age of nine.
"We were not ready for Katyusha [diminutive for Katya] to decide to leave us. And although she was not with us for too long, the whole family has a hard time because of the loss," Anna said of her adopted daughter.
Katya never knew her biological father, who left her mother shortly after her birth.
Please fill in your e-mail so we can share with you our top stories!