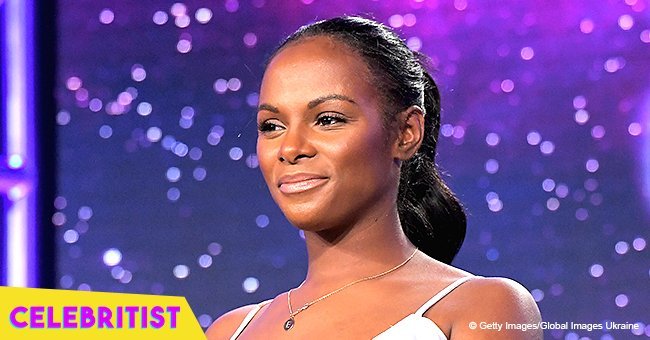 Tika Sumpter teases with her decolletage in revealing orange dress in recent pic

"Southside With You" actress Tika Sumpter stunned in an orange maxi dress that teased the slightest hint of cleavage. After taking the time to shed her baby weight, the results are definitely worth it.
Sumpter stepped out in the bold orange halter-neck that pooled around her feet. A cut-out detail on the upper bodice exposed just enough side cleavage for the ebony beauty to stay modest.
Sumpter accessorized with simply with an orange clutch and minimal jewelry. Her black curls were pulled back and bunched across the back.
Most famous for her role in OWN's "The Haves and the Have Nots," Sumpter has expressed her disapproval of the pressure for new moms to regain their pre-pregnancy weight.
Speaking in 2017 four months after welcoming her daughter, the star said:
"There's a lot of pressure to do that, but I think, one, it's unrealistic. Two, it takes almost a year for your body to heal. Everyday people who have jobs and more than one kid, they're looking to us to inspire. I think sometimes we push false claims about snapping back, when really, we have people helping us, whether it's trainers or people come to our houses."
She added that the most required of every new mother is their personal best:
"The pounds will come off, it just takes time, and you do what you can. You walk around your neighborhood, you try to eat better and make better choices, but it's not realistic to 'snap back' a month later."
The Queens native who is pegged to star in the 2019 animation film "Sonic the Hedgehog" also advised new moms not to get so engrossed in caring for their babies that they forget to take care of themselves.
She suggested, "if you're in a relationship, to continue to build that and have a night out with your significant other, and also you and your friends."
Sumpter, 38, and her boyfriend, Nick James, welcomed their daughter, Ella-Loren in 2016. The pair got engaged in January last year and have been happily co-parenting. Last Halloween, Sumpter shared cute photos of her family in costume as they prepared to go trick or treating.
Please fill in your e-mail so we can share with you our top stories!