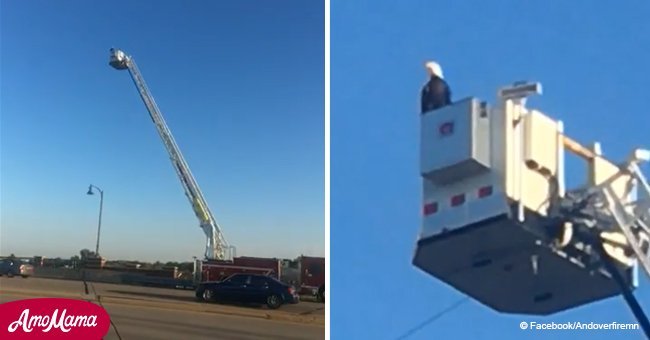 9/11 memorial made extra special as a wild bald eagle lands on the flag display

A bald eagle stole the show by landing on a raised ladder during a 9/11 memorial organized by the Andover Minnesota Fire Department.
The curious incident took place this Tuesday, September 11, 2018, in the middle of Interstate 10, where the tribute was set up by the firefighters.
The video was immediately uploaded to the Fire Department's Facebook page, where people were able to see the beautiful animal looking down overseeing the passing vehicles with the American flag in the background.
Firefighters gathered by the Interstate in order to remember their fallen comrades, those who risked their lives, even while being off-duty, 17 years ago. Follow us on our Twitter account @amomama_usa to learn more.
A DARK CHAPTER IN AMERICAN HISTORY
Several firefighters rushed to the scene while the World Trade Center buildings were collapsing, saving thousands of lives but losing theirs in the process.
That kind of courage is hard to come by, so the Andover Fire Department parked their firetrucks on each side of the road and raised their ladders, where an American flag could later be seen waving.
ALMOST A MIRACLE
Andover Fire Chief Jerry Streich was one of the men at the site and he couldn't even believe his eyes when he spotted the majestic bald eagle, one of the biggest American symbols, resting on top of a ladder.
He immediately started recording, still in awe at, the sight of the animal. The video turned out to be a success and has gathered almost four million views and has been shared over 130,000 times.
TRUMP'S CONTROVERSIAL GESTURE
But while the bald eagle seemed to pay its respects to those who lost their lives in the 2001 terrorist attacks, the President of the United States, felt that it was appropriate to do a double fist pump at a memorial service.
Donald Trump is currently under fire after arriving at the 9/11 ceremony with both his fists in the air as if he was celebrating something, which angered thousands of people on social media.
Please fill in your e-mail so we can share with you our top stories!