97-year-old woman steals the show from her great-granddaughter showing energetic dance moves
The video of a 97-year-old senior lady dancing next to her great-granddaughter became viral in no time. It was another proof that age is just a number.
Alexis Taylor took to YouTube to share the two-minute clip of her grandmother, who was 97 at that time, and her daughter, Alaria, who was eight, showing off their dance skills.
When the video began, Alaria appeared moving side to side next to her great-grandmother who observed her. When Fifth Harmony's hit song "I'm Worth It" started playing, it was just like a burst of excitement went through the child's body.
Alaria's steps were so good that it seemed a choreography. She took a few spins, clapped a couple of times, and everything with a happy expression on her face.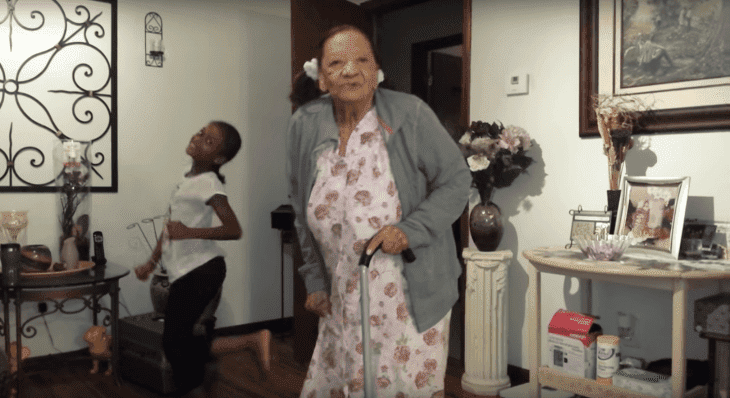 After a while, Alexis said: "C'mon grandma!" and the senior lady replied: "You want me to do my thang? [sic]." All of a sudden, the nonagenarian, who had a walking stick on her left hand, started moving her hips and shoulders side to side following the rhythm.
Apart from that, her face showed how happy and excited she was about dancing with her great-granddaughter. The pair kept dancing for almost two minutes before the video ended. The grandmother stole the show, though.
PEOPLE'S REACTION
As soon as Alexis uploaded that clip on the Internet, it went viral. Nowadays, it has more than 1.8 million views on YouTube and almost three million on Facebook.
People couldn't stop commenting, admitting that they would like to be as energetic and flexible as that grandmother when they reach her age. Others just revealed that the video lifted their spirit.
A SIMILAR SITUATION
An unidentified grandfather also took his time to challenge two younger performers to a breakdance battle in the middle of a crowd. The trio showed off their moves to Nirvana's hit song "Lithium."
The senior man, holding a cigarette in his hand, moved very smoothly trying his best to follow the song's rhythm but adding the kind of steps that usual breakdance battles have.
Finally, the man did the "moonwalk" and got out of the dancefloor taking a bow. The crowd couldn't help but applaud and cheer the senior man who slowly walked away from the group.