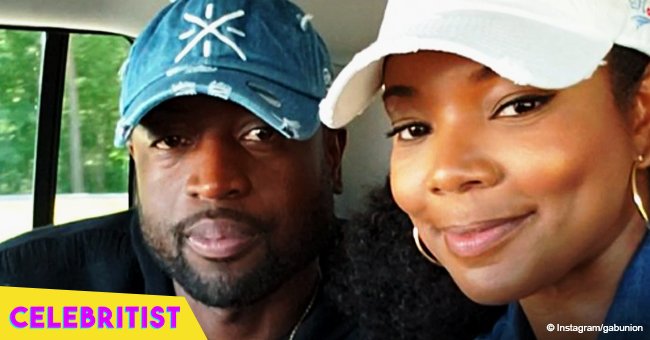 Gabrielle Union stuns in leather outfit, poses next to husband in adorable photo
Gabrielle Union stole the spotlight in a leather outfit posing with Dwayne Wade as they enjoy a trip to Napa, where the NBA star is currently taking care of his winery business.
Gabrielle Union is her husband's number one fan, and she joined the basketball star on a trip to his wine cellars in Napa, as they prepare for the new harvest of the year.
In pics from the trip posted to her Instagram, Union looked stunning in a short leather jumpsuit that put her toned thighs on display as Wade stood behind her making her laugh. The actress accessorized her outfit with black platform boots and a matching handbag.
In another shot from the same night, Gabrielle looks tough posing with a hand on her crotch and the other around her torso, making a harsh gesture to the camera with an imponent stance. Dwayne, on the other side, crossed his arms next to Gabrielle, looking way less threatening than her.
"In Real Life... Forever Mood," Union captioned the picture.
Fans took over her comment section to share their thoughts on the picture. One user wrote "I love this couple. Living their best life in love. Yes!" another added, "The best power couple hands down!!! I salute Y'all," and a third one said "Lol. Woman, you are hilarious. I'm a 4eva fan of your work and your marriage (Team Union-Wade 4eva)."
In a recent interview that Dwayne did with Wine Spectator, the 36-year-old explained that entering the wine industry was not a spur of the moment decision but an organic idea that started to develop back in 2014. He also mentioned that he's not ruling out the possibility of making a wine collaboration with his wife.
"That's a great question. I don't know, I never thought about it," he said when asked about collaborating with Union, and continued:
"It's definitely been cool to have my own wine, and she has the Vanilla Puddin' Chardonnay that she has done. It's the Wade wine; it's the Wade family name. I always love doing things with my wife so that it could be something cool. Nothing is off the table, you know?"
WEDDING ANNIVERSARY
Gaby and Dwayne recently celebrated their 4th wedding anniversary, and to commemorate the occasions, the "Being Mary Jane" star did a montage of photos and videos that sum up her time with Dwayne, posted it on Instagram, and captioned it:
"Waking up every morning next to my best friend is a blessing I could've never imagined. 4 years later... You're still the one I wanna laugh with and snuggle and love on and ride with... @dwyanewade Happy Anniversary baby!"
Gab also shared a throwback video from her wedding that's edited, so it looks like the trailer of a romantic comedy. The clip, which features moments from the couple's ceremony and after party, features comedian Kevin Heart giving a heartfelt speech and John Legend playing the piano at the service.
"4 years later, still my best friend. Happy Anniversary baby" wrote the 45-year-old beauty.
Please fill in your e-mail so we can share with you our top stories!