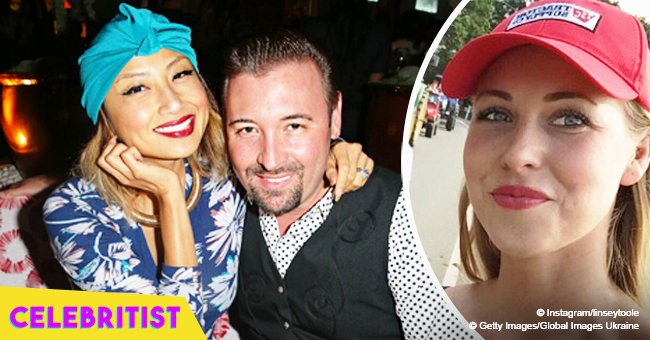 Freddy Harteis' new girlfriend shows off baby bump in pink dress in photos from baby shower

Freddy Harteis' new girlfriend is expected to pop soon as she showed off her large baby bump in a pink dress during her baby shower.
Harteis, who is the ex-husband of "The Real" co-host Jeannie Mai, is now expecting his first child with Linsey Toole. Now that her due date is coming soon, they threw a baby shower that revealed the gender of the baby.
Toole previously revealed that they were expecting a girl and that she would be named Emersyn Rose, or Emmie Rose for short. Before anyone could say anything about the name they chose, she revealed that it was actually her mom who chose it.
"So, this little pink blobs official name is: Emersyn Rose (Emmie Rose) Disclaimer: mama picked Emersyn. Dear lord if I don't mention that to the whole wide world I'll never hear the end of it!"
She also took the time to admit that it took her a while to finally accept the name that she had chosen, and shared some wise words for her followers.
"I struggled when I started to notice the middle name Rose was increasingly popular. I shuffled through a million other alternative[sic] and possibly much cooler baby names trying to be different. But I settled in a place where I realized that sometimes it's not about what everyone else is or isn't doing. Just like anything in life, it's about what something means to YOU."
The couple's baby shower looked like a lot of fun, with their friends and family showering them with pink gifts. The blooming mother opted to go for a pink maxi-dress and a crown during her party, and although her caption was filled with sarcasm: "My baby shower wasn't any fun and I hated everything. #Obviously", it was clear that she meant the opposite.
Her photo slideshow actually showcased her looking all giddy and excited while opening gifts in front of all of their friends and family, and it's quite clear that they can't wait for Emmie Rose to arrive.
Just six months after Jeannie and Freddy separated, he announced that he was expecting his first child with Linsey. Their separation last year after a 10-year marriage was in part due to Harteis' desire to have kids, while Jeannie did not.
Now that he is expecting his first child with Linsey, he couldn't be happier. However, it took Jeannie a while before she was able to recover from the situation, which she focused on bettering herself and taking better care of her body.
Congratulations to the expectant parents!
Please fill in your e-mail so we can share with you our top stories!