Melania Trump dressed in a gloomy tailored coat to attend 9/11 memorial service
Melania Trump, the First Lady of the United States, accompanied her husband to a 9/11 Memorial Service wearing a somber custom-made coat.
On Tuesday morning, September 11, 2018, the 48-year-old stepped into Shanksville, in Pennsylvania, to attend the service in honor of those who perished on United Airlines Flight 93.
The First Lady couldn't help but take to her own Twitter account to post a photo of herself and Donald Trump posing for the camera with the caption 'we remember.'
9/11 is a day of mourning and reflection for Americans around the world and, across America, there have been several events in which people paid their respects to the victims of the 2001 terrorist attack. Follow us on our Twitter account @amomama_usa to learn more.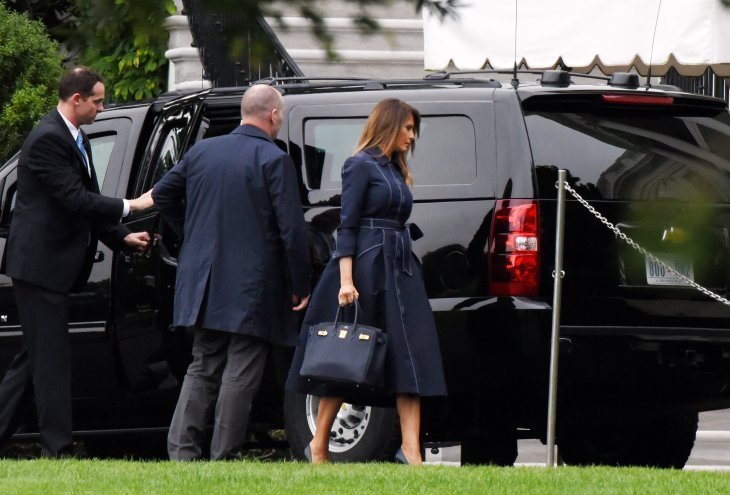 DRESSED FOR THE OCCASION
Even though the tragedy took place 17 years ago, every year the world remembers how the World Trade Center towers collapsed, killing thousands of people in the process.
#NeverForget 9.11.01 pic.twitter.com/BWeDfxj21W

— Melania Trump 45 Archived (@FLOTUS45) September 11, 2018
Black was the main color worn at the Memorial Service, but the First Lady chose a somber navy dress with white stitching for the ceremony, which she matched with a pair of high heels.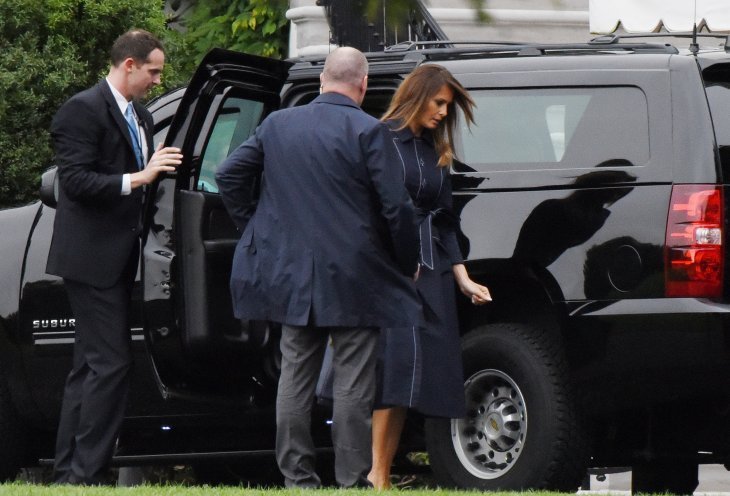 The custom-made coat was reportedly created by Hervé Pierre, Melania's stylist, who has also designed several other looks for the  48-year-old, such as the white gown that she wore at the inaugural ball.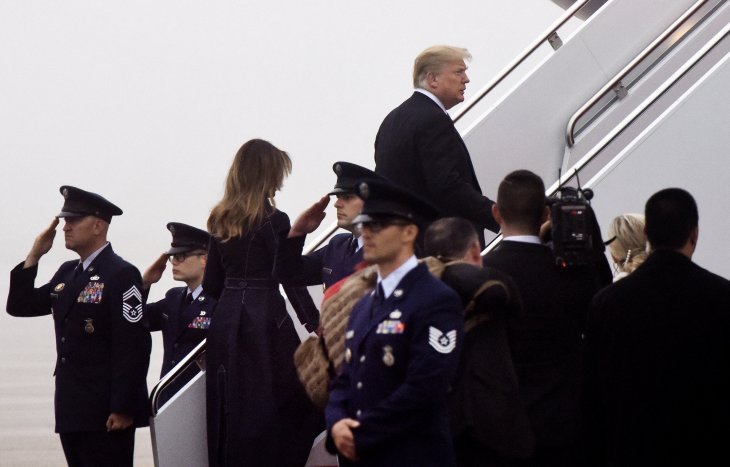 A FLOTUS TRADEMARK
The coat dress has become one of the most recognizable pieces worn by the First Lady, who usually pairs them with shoes by Christian Louboutins or Manolo Blahniks.
Melania Trump wears sombre navy coat for 9/11 memorial service in Pennsylvania https://t.co/3oPzt1qwE5 pic.twitter.com/x9x0ZQ8xoR

— Daily Express (@Daily_Express) September 11, 2018
Although Melania kept her private an respectful pose throughout the day, the same can't be said about the President; Trump has lit the internet on fire yet again due to his obnoxious behavior.
Sigh. He has no empathy gene - or for that matter, decency period. https://t.co/RBZUfNcDAT

— Amy Siskind 🏳️‍🌈 (@Amy_Siskind) September 11, 2018
DOUBLE  FIST PUMP CONTROVERSY
Upon landing in Pennsylvania, the 72-year-old was pictured doing a double fist pump, as if he was celebrating something while addressing the hundreds of people waiting for the service to start.
People online didn't appreciate the President's lack of respect or, as Amy Siskind, a Twitter user, put it, the lack of an 'empathy gene,' as well as decency.