44 siblings and counting
Kianni Arroyo, a 21-year-old from Florida conceived through artificial insemination, began tracking down her biological siblings as soon as she was old enough to access medical records. 
During the past five years, she has met her donor father, and learned that she has more than 40 half-siblings, some living as far out as Canada and Australia. 
Due to the nature of the industry and the proliferation of online registries, people born from sperm donations can now meet their distant biological relatives and in essence, form a new type of family structure. 
Read more on our Twitter account, @amomama_usa. 
FAMILY CLAN
Since making it her mission to track down all her siblings – and documenting it online – Arroyo has met 14 her siblings, including Joanna, who is the closest in age to Arroyo. The two have become close friends who see each other regularly. 
Her siblings range in ages from in their twenties to the youngest known to be only five month's old. She is also close to 19-year-old Zac and has recently met pre-teen twins, Sophia and Ava. 
"We have 5 sets of twins in our family and these are the only twin boys! All 3 are from the same momma and our same donor as well. So cute. Hopefully I can meet you boys one day."
DONOR 2757
Her father, who has asked that his anonymity is protected, is only known as Donor 2757. Arroyo met him when she was 18 years old and has seen him twice since then. 
He described himself in the donor profile as a photographer and artist with hazel-green eyes and wavy brown hair of German, Irish, and Native American descent. 
Donor 2757 initially began donating sperm to pay off debt and student loans. Arroyo said it was awkward at first when she met him, and she didn't know if she should hug him or shake his end. She explained: 
"But then he kind of opened his arms into a hug and accepted me. It was kind of relieving."
She has since learned that 64 percent of her siblings are female and 19 of them were born between 2009 and 2011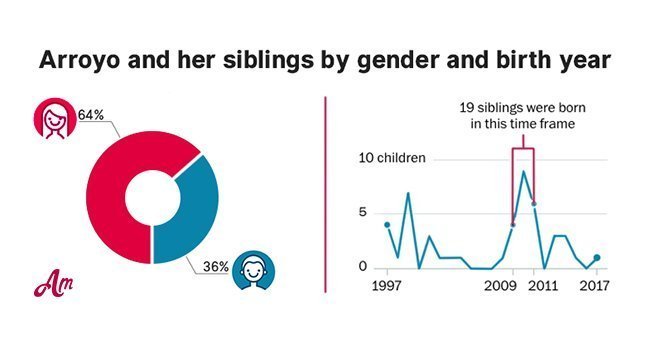 SPERM DONATION REGULATION
In recent years, the children born from sperm donors have called for stricter regulation when it comes to the practice, and new laws have already been introduced in places like California and Rhode Island. 
Some of the laws already in place have proved ineffective to manage the situation properly. For example, sperm donors are only required to submit 20 samples maximum.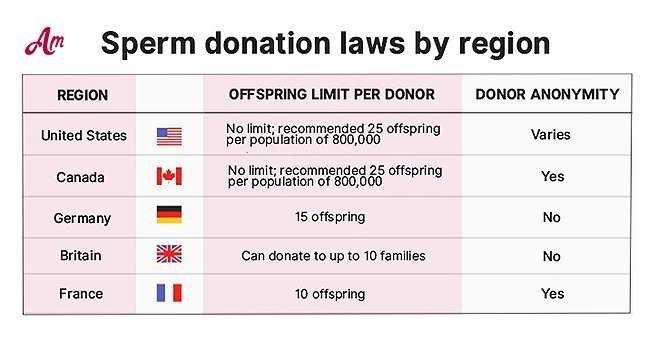 In Arroyo's father's case, the company was amalgamated, and his medical file was scrapped, so he was able to donate again. 
FINDING RELATIVES
Most donors in the States are anonymous, and this has raised concerns that siblings from the same donor could fall in love and marry, without ever realizing that they are related.
An added layer of concern is involved should the unlucky couple decide to have children, as they could be at risk of having genetic disorders. 
Arroyo's mission to meet her siblings began when her grandmother raised concerns that she might end up marrying a brother. She said: 
"My grandmother's biggest fear would be that I would end up with one of my brothers. But I am currently engaged, and I know my fiance's father, so we're good to go!"
It is only natural for adoptees and children of sperm donors to track down their relatives and a 31-year-old woman named Michelle Cehn recently set out to find her biological parents too.
She traced her mother down back in 2009 with the help of her adoptive parents but finding her father proved harder than expected. 
Michelle's mother didn't know the identity of her father, and their only recourse was to do a DNA test through a website. She was then put in touch with other family members, and through the site, tracked down her father, as well as her brother and grandparents.