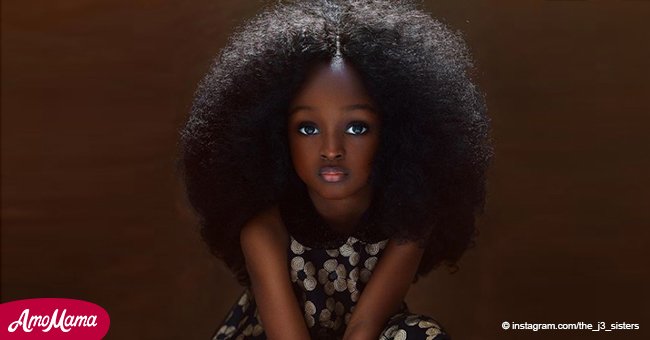 5-year-old girl is dubbed most beautiful child after her photo reached the world
A photographer captured the little girl in three images, resulting in her photo going viral over social media as plenty of followers dubbed her the most beautiful girl in the world.
The Nigerian girl, who has been identified only by her first name Jare, is making waves over social media after photographer Mofe Bamuyiwa captured some simply photos that show the girl's natural beauty.
The three images, which all show the girl in a simple setting, have her looking very grown up for her tender 5 years. The image draws to the viewers attention the little girl's big bright eyes, her flawless skin tone, and her incredible full hair.
"Oh yes she's human ! She's also an angel ! "J A R E "" Bamuyiwa captioned the first photo of the 5-year-old.
Jare appeared to be sitting at a desk in the photo, wearing a black dress with a high color that was decorated from top to bottom with pretty gold flowers.
She wasn't doing anything a child might normally be photographed doing, instead looking straight at the camera with a straight face to rather draw attention to her stunning features.
In another shot, she seemed to be seated on the desk, facing the camera full-on. She had the same expression on her face, and had her arms crossed down in front of her body between her knees.
"CHILDREN ARE A GIFT FROM HEAVEN. I'm pretty excited and elated about my new style of child portraiture." Bamuyiwa wrote as part of the caption.
"I could have made her smile and make her laugh out loud but I put her in their natural moments for us to see through their eyes !" Bamuyiwa shared as her reasoning for not asking Jare to smile.
"The opportunity came and I had to take a bold step to express my ideas of how I want to take portraits of kids. I want to portray the interception between her childhood and adulthood so both stay timeless!" She adds: "Posing them as adults ! Was my trick to create it a timeless portrait!"
Collectively, the three photos have over 45,000 likes, and plenty of comments of awestruck followers gushing over how beautiful she is.
Jare is not the first little girl to be dubbed the most beautiful girl in the world. 8-year-old Russian girl Anna Pavaga was afforded that unofficial honor in December, with her fellow countrywoman, 6-year-old Anastasia Knyazeva, was named as such earlier the same month.
Please fill in your e-mail so we can share with you our top stories!