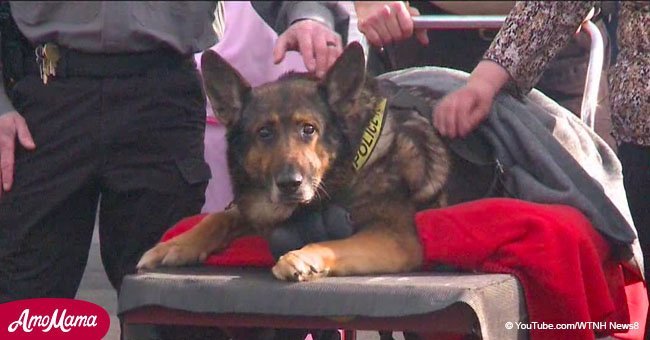 Loyal police dog's last ride in a squad car before being put to rest
This police dog was given a proper send off when his time came, with policemen lining the streets to honor him and the years of service he gave to the community.
In April 2015, a police dog named Zeus in Ridgefield, Connecticut, had to be put down. After nine years serving on the K9 unit of the police force, he had had to retire due to hip problems in 2014. A year later, he had to make his final trip to the vet.
But his fellow members of the force weren't going to let him go out without the formal send off every other fallen member is given, with the police chief even offering up a moving speech for the beautiful dog.
Zeus waas first wheeled on a gurney down a street lined by police officers from all over the state dressed in their uniforms who had come to say their final thanks and goodbyes.
The precious dog also had other members of the family that he had lived with at his side to pay their respects.
Chief John Roche shared his sentiments on the final goodbye to Zeus.
"This is an honor, to be here in his last moments. The disease that had racked him had deteriorated to such a point where it was just so difficult for him to exist and continue on. We're all deeply, deeply saddened today to lose a fellow officer here at the Ridgefield Police Department."
During his almost decade-long stint in the police department, Zeus assisted his partner, officer Shawn Murray, with hundreds of arrests. Detective Scott Murray, Shawn's brother, says Zeus' passing is like losing a family member.
"He was in the yard when there were picnics, he played, he chased the ball, he did what all normal family dogs do, except he had a job," Scott said.
Following Zeus' death, the family lowered their flag to half-staff, and draped black cloth over their front door entrance.
Please fill in your e-mail so we can share with you our top stories!