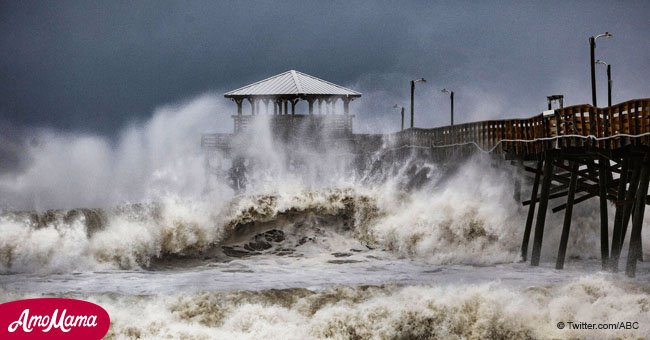 Catastrophic Hurricane Florence makes landfall in North Carolina causing serious losses
Reports state that Hurricane Florence is nearly over land. It has tropical-storm-force winds that are almost 200 miles across the Carolina coastline.
Water levels have also risen along the coastline and the threat of tornadoes has increased further inland. People have also been evacuated in areas that are affected.
Hurricane-force winds are said to be battering portions of the North Carolina coast. The storm is expected to worsen during high tide in the Atlantic Ocean.
It is moving west-northwest at 6 mph with wind speeds of about 90 mph. The storm was detected at about 30 miles east of Wilmington at around 4:30 a.m. local time.
For more on this story go to our Twitter account @amomama_usa. It was initially a Category 4 storm but it was downgraded on Thursday night to a Category 1 from a Category 2.
Parts of North Carolina are expected to experience around 40 inches of rain and storm surges could be as high as 13 feet. On Thursday, the North Carolina Governor Roy Cooper addressed the natural disaster they were facing.
He warned, "Flooding and the storm surge -- those are the two main things that kill people, and this storm is not letting up."
The storm is expected to build up very slowly on Friday and Saturday. Winds and huge amounts are anticipated to hit the same areas of North and South Carolina for 24 hours.
Officials have said that high winds and floodwaters could knock power out for several days, if not longer. Almost 200,000 customers were already without power in North Carolina Thursday evening.
For those in an evacuation area, "there is still time to get out," Cooper said. "Don't risk your life riding out a monster storm."
South Carolina Governor Henry McMaster added, "Time is running out. Now is the time to go because that window of opportunity is closing on you very quickly."
Despite this, there are people who just aren't budging. Kelly Salisbury said she won't be leaving Kitty Hawk, North Carolina, even though most of the town left.
While in Awendaw, South Carolina, Chris Johnson said he was also staying behind to watch his house while his wife, Michele, is evacuating. The South Carolina County including Myrtle Beach has imposed a 7 p.m. to 7 a.m. curfew.
"The top counties affected are Carteret, Craven, New Hanover, Onslow and Pamlico," North Carolina Emergency Management said in a statement. Meanwhile, on the other side of the country, tropical depression Olivia was said to be bringing rain and flash flooding to Hawaii.
Peak rain rates of about 1 inch per hour were recorded in Puna and South Hilo.
Please fill in your e-mail so we can share with you our top stories!