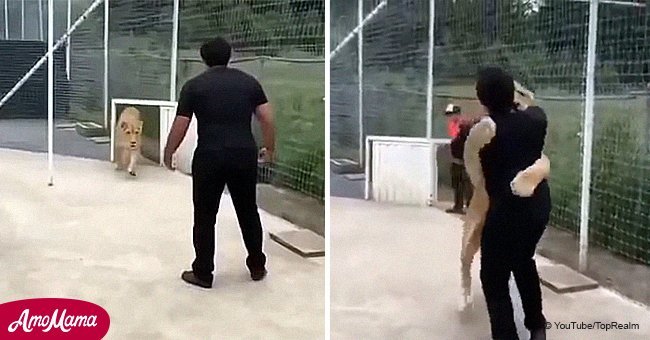 Lioness meets her rescuer for the first time after 7 years
A lioness who had not seen her human father for seven years was ecstatic when her gates opened so that she could shower him with tons of lion-sized hugs and kisses.
In a YouTube video, we see Kiara who was named after the "Lion King" character and certainly lives up to her name in elegance, strength, and love.
When her former adoptive dad visited her after so long, she couldn't contain the excitement within herself. The video is seen below.
Follow us on Twitter for more @amomama_usa.
Adolfo, who had raised Kiara as a cub, was hit head-on with the large cat's monstrous hugs. It didn't take long before he dropped to the grass as the overwhelmed Kiara was all over him.
Adolfo was equally happy to play with his former feline friend. He returned all the hugs and wrestles with the giant animal in a heartwarming display.
While such creatures are often potentially dangerous, they can be trained to refrain from harming humans like ourselves. When this happens, we can enjoy the incredible cats close up.
A safari adventure park in Crimea, Russia has just such an experience for visitors.
In a clip uploaded to Twitter earlier this month, viewers get to see when a lion decided to not just greet tourists but enter their safari vehicle and entertain the whole group.
In the video, the driver of the vehicle parked right in front of a lion named Filya. The friendly lion went right into the front seat and rested smack dab on the chair, pushing off the driver and a passenger.
She then moved into the back seats where the brave tourists pet her. But soon the guide has to push off Filya so they can move along.
Filya is insistent. She licks one of the passengers but is again removed by the driver who goes into gear this time and drives off.
As they drove away, Filya simply looks over at her visitors who have filmed the whole surprising encounter.
Please fill in your e-mail so we can share with you our top stories!