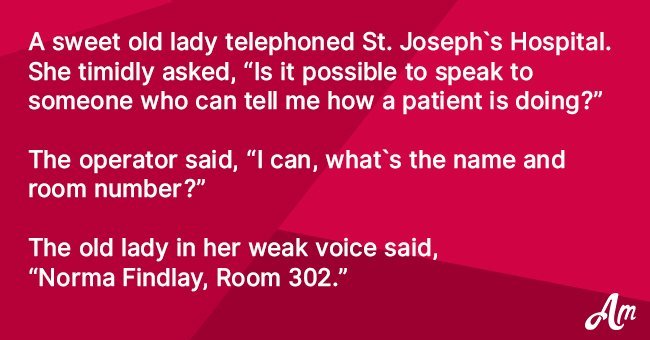 Smart elderly lady calls a hospital to check on a patient
Elderly people are often wrongly stereotyped as people without any sense of humor. But this hilarious story shows the sharp wit of an elderly lady, and how she uses it to get her way around the hospital system.
Once an elderly lady called at a hospital and asked in a sweet and polite voice, "Can I speak to someone who can inform me about the health of a patient?"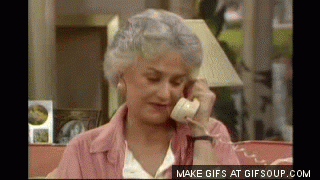 "Sure, I can tell you that," the operator in the hospital said. "What are the name and the room number, please?"
The old lady replied, "Norma Findlay. Room 302."
"Please stay on the line. I'll check with her nurse and get back to you soon," the operator said and took off.
Follow us on Twitter @amomama_usa to read more of these amazing stories.
A few moments later, she returned to the phone and said, "I have good news for you. You need not worry about the patient"
She then added, "Her nurse just told me that Norma was doing great. Her blood pressure is fine and her blood work just came back as normal. In fact, her physician, Dr. Cohen, has told me that she is scheduled to be discharged on Tuesday."
"Oh, that's such a great news! Wonderful!" the old lady said. "I was so worried. God bless you!"
"You're more than welcome," the operator replied. "Oh, by the way, is Norma your daughter?"
The old lady laughed at this. "No," she said. "I'm Norma Findlay in 302. No one ever tells me anything!"
This story was published on Bored Daddy.
Please fill in your e-mail so we can share with you our top stories!