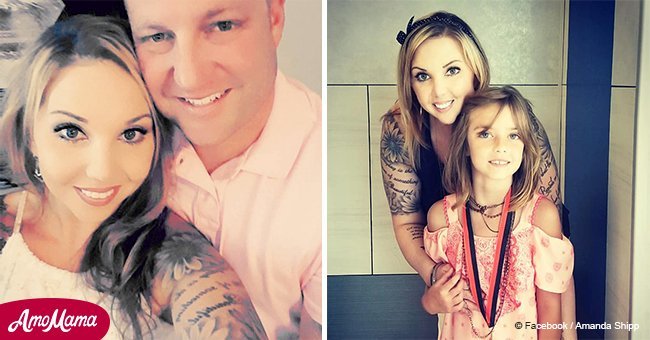 Young mum-of-two shares emotional story about her painful health struggle
Amanda Shipp shared the story of the devastating tragedies that befell the family and how she learned to recover from it with time.
In an article on Love What Matters, Shipp revealed that it all began for her when she was carrying her two-months-old son and suddenly she felt something snap in her body.
She dropped her baby in the crib and froze at her place. She could even hear her one-year-old daughter crying in the next room, but she could not move to get to her.
"I couldn't feel anything but pain shooting from my back all the way down to my toes in my right leg," she wrote.
Follow us on Twitter to learn more.
The Suicidal Tendencies
When she went to visit the doctors, she was told that it was "probably the nerve." She was given proper medications and a mixture of painkillers. However, after returning home, her situation only worsened.
The drugs started to have a certain effect on her. She could walk around and do normal things but started to feel sad.
"I felt like driving off a bridge was a good idea," Shipp wrote. She called her doctors to consult about her situation but they consoled her that the feelings would pass once the body becomes accustomed to the medication.
However, the feelings did not pass as the doctors predicted. Frustrated, Shipp took a bottle of pills and woke up in a Walmart parking lot.
The Diagnosis
When she was rushed to the hospital following her suicide attempt, the doctors declared that she required a back surgery.
Four of her lower discs were out of place and it was causing her a lot of pain. She was suffering from degenerative disc disease that required immediate attention.
Sometime after her diagnosis, her husband's sister was diagnosed with a deadly brain cancer. Her mother-in-law, who had come to live with them because of her condition, had to return to their home in South Africa.
Her husband could not go to see his sister because he needed to look after her and the children. He couldn't leave her alone and fly to South Africa with kids.
Overcoming the Challenge
That was the first time she felt her husband start looking at her with disgust. Eventually, their relationship waned and they separated.
Later, Shipp had another back surgery and decided to turn her life around. She started eating healthy and doing exercises and soon lost over 30 kilograms.
She eventually became a personal trainer and also found her new husband at the gym. She never imagined she would have to start a new life with a new man but she was living her journey now.
Some illness requires a simple dose of medication to be cured while others are more complicated than that. Suicidal tendencies can sadly lead people to take drastic measures.
A woman from the Netherlands, Aurelia Brouwers, is one of such women who tragically chose death over suffering, and she did so through a medical procedure called euthanasia.
Please fill in your e-mail so we can share with you our top stories!