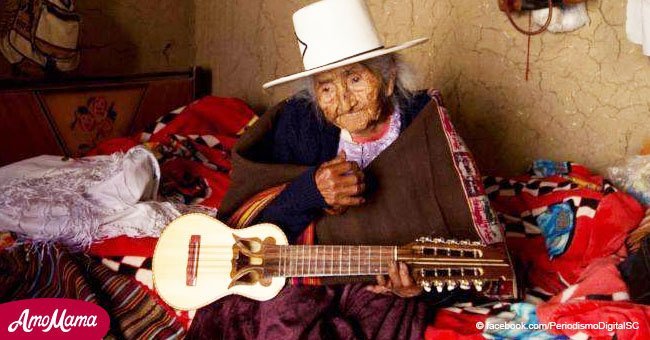 118-year-old captivates the public by sweetly singing and playing guitar (video)

Despite her incredibly advanced age, this 118-year-old woman has surprised her entire country, where life expectancy is 70, which is the region's lowest.
On October 26, 2018, Bolivian native Julia Florez Colque will turn 118 years old, and, as hard to believe as it might be, she enjoys a great health condition, as El País reported.
Despite having gradually lost her hearing, she understands perfectly when people talk in her ear. Read more on our Twitter account @amomama_usa
She is in an impressive condition, but the many years she has lived are noticeable in her appearance, with a very wrinkled face and long white hair, as we can see in a YouTube video about her that has soon gone viral.
The old lady doesn't need to eat particularly healthy food to be so strong at her age, and she loves to indulge herself in eating cake and drink Coke.
"Mamá Julia" as she is known in her family, lives in a humble clay house in Sacaba, Cochabamba, along with her 65-year-old grandniece Agustina Berna. To this day, Florez still plays the "charango" very well.
According to Wapa, the centenarian also sings with a strong voice in her indigenous Quechua language, the only language she speaks.
Even though the Bolivian government believes her to be the oldest living person in the world, her name hasn't been added to the Guinness World Records.
Her great-granddaughter Rosa Lucas claims that Florez is probably the healthiest member of the family.
As AP reported, Florez was born on October 26, 1900, in a miner's settlement in the Bolivian mountains. She was a llama and sheep shepherd when she was still a child, before migrating to the valley, where she worked selling fruit.
The oldest women registered in the Guinness Records, Japanese-born Nabi Tajima, passed away on April at 117.
It is amazing to see how lively and even funny people past 90 can still be, and most of us can hardly imagine how would we be like if we are lucky enough to live that long.
Recently, a 91-year-old woman known as "Little Nana Iris" surprised the Internet by joining the thousands who have taken part in one of the latest online crazes, the "Baby Shark Challenge" and her antics have gone viral.
Please fill in your e-mail so we can share with you our top stories!