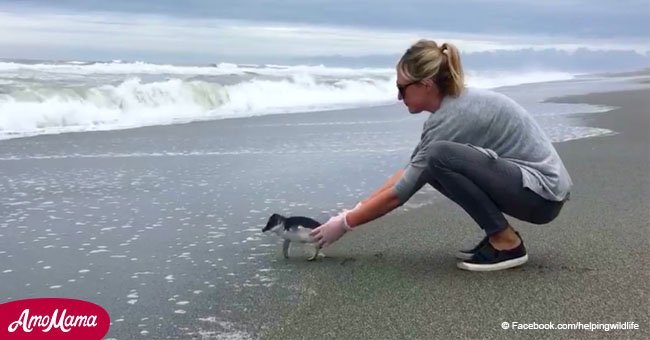 Little penguin is ready to go home but first turns to say an emotional goodbye to savior

A little penguin that was saved by the Kaikoura Wildlife Rescue in New Zealand was released into the water. He made sure to say goodbye before leaving.
In a clip that the organization uploaded to its Facebook page, the little blue penguin is seen in Sabrina's arms, the rescuer. The woman gently placed the animal on the sand in front of the water so it could go back to its habitat.
Both of them went through a lot before reaching that point as a person found the bird trapped in a net with a severe injury on its head sustained when it tried to release itself from the trap.
That person knew that the Kaikoura Wildlife Rescue could help the little blue penguin to get its life back, so they took it there in no time.
Sabrina and some other members of the staff treated the blue penguin. The woman fed it and gave it pain relief medication, antibiotics to fight the infection, rehydration serums, and more for six days.
Once the bird was healthy, it was time for it to be taken to the water. Once Sabrina placed the penguin on the cold sand, it immediately turned around to see her as if it was wondering if she would go in the water with it.
The little animal then took a few steps into the water but then turned around once again as a way to thank Sabrina and to say goodbye. Seconds later, it was running to the ocean to enjoy its new life as a free penguin.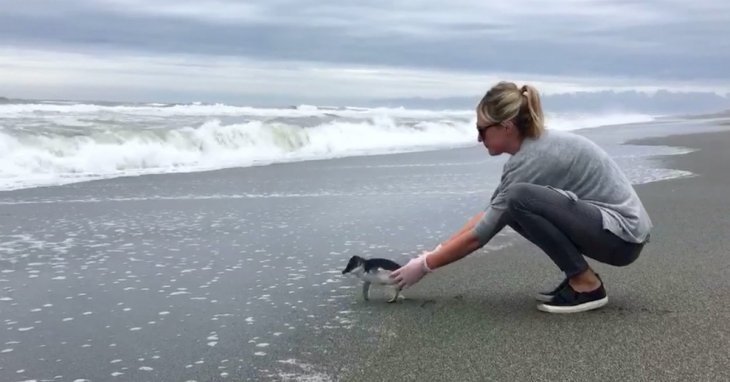 Source: Faithtap
"Release of a rehabilitated injured blue penguin adult (not a baby!!) back to where it originated from. The penguin had sustained a significant head wound from freeing itself from plastic netting. Pain relief, antibiotics, vitamins, rehydration, feeding and rest ensured a successful return to the wild," wrote the organization on Facebook.
It is not the first time that penguins are captured in camera showing love and respect to others as a video of two little Magellanic penguins in Cape Town, South Africa of two little birds "holding hands" recently went viral.
The two penguins emerged from the water and walked towards the sand, joining flippers and waddled on the beach.
They held hands for almost 30 seconds and, after that, rested together on the beach next to other penguins that were nesting and mating.
Please fill in your e-mail so we can share with you our top stories!