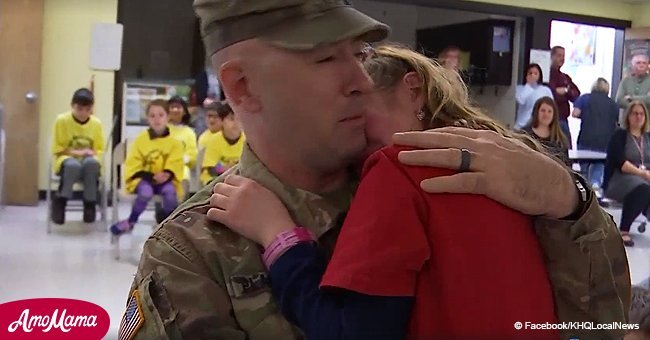 Little girl can't stop crying when she sees her soldier dad for the first time after 6 months
This year a tear-jerking reunion occurred at the Shenendehowa School District's Okte Elementary School. Lt. Col Jean-Paul Plamondon surprised his daughter Natalie by arriving early from deployment.
The surprise took a lot of planning between the school staff and the family. The reunion culminated with the little girl crying for almost an hour with joy.
In January Lt. Col Jean-Paul (JP) Plamondon had to keep the news of his battalion's arrival home a secret from his daughter Natalie, 7½, a second grader at Okte Elementary School. She was expecting him three weeks later on January 31.
That morning the school had a program's special reader for the day. Valerie Plamondon, Jean-Paul's wife, asked that Natalie is allowed to join her. The pair stood at the front of the cafeteria to read the short story, "Hero Dad."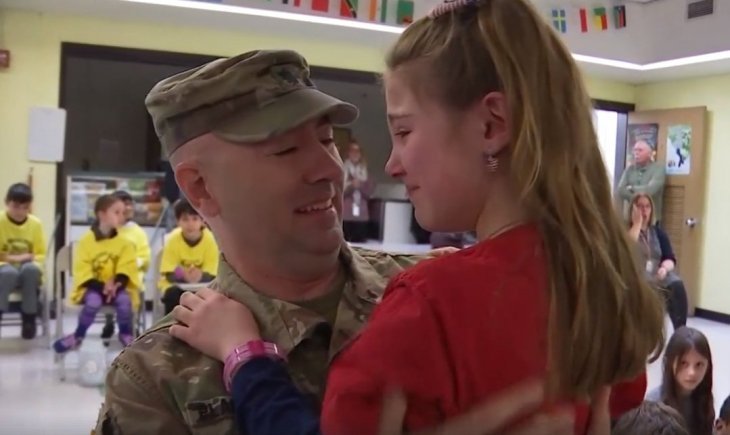 Source: Facebook/KHQ Local News
For more on this story go to our Twitter account @amomama_usa. The room was filled with students who listened as Natalie described the book's hero as one who didn't have a cloak to make him invisible or a laser gun.
Instead, the hero was described as wearing camouflage and holding a rifle. When the story finished, a surprise guest was announced.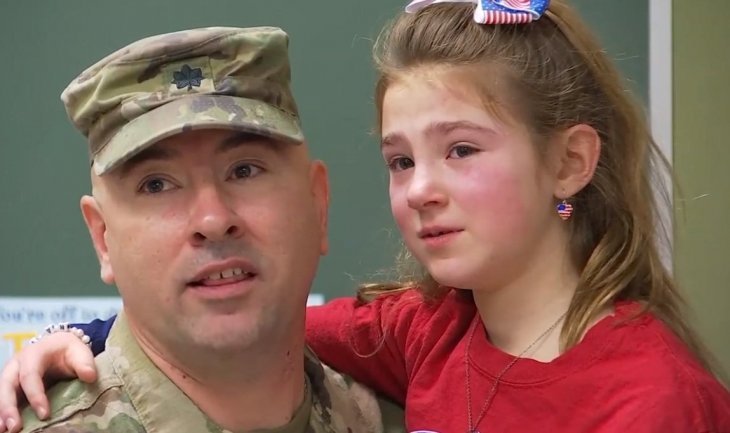 Source: Facebook/KHQ Local News
That's when the little girl's father walked in dressed in camouflage. Natalie was overrun with emotion as she rushed to jump into her father's arms.
The family then moved to a small office where they shared how much they'd missed each other.
"You run all the scenarios in your head beforehand, will she run, stay there, not react. It's emotional," Jean-Paul said about the surprise reunion.
He added, "I tried to have some face time every seven or 10 days but it's not the same. Seeing her on a phone is one thing but it's hard, you can't feel her."
His excited daughter had this to say, "This is better than anything in the world. This is the best surprise ever. Christmas was not good without daddy home."
The lieutenant had left when she was 6-and-a-half and not as tall. He acknowledged how in that time she had gained weight, he'd missed her birthday and every special holiday.
Jean-Paul shared that seeing her pictures just wasn't the same and he'd "missed seeing her grow up." Natalie's father revealed at the time that he intended to take some leave.
He wanted to enjoy recreational activities with his family and to go back to his civilian job with Rubber Maid Commercial Products in early April.
He anticipates that re-deployment won't occur for at least two years. Jean-Paul is the Battalion Commander of the 854 Engineer Battalion out of Saugerties.
He and his unit were deployed to Kuwait on February 5, 2017. There he commanded 800 soldiers in 7 different countries at 30 different locations.
Families being surprised by their deployed loved ones to have become special occurrences across the US. This year, Sergeant First Class Terry Gottke returned home after a year-long deployment in Afghanistan.
He and his wife, Brittany Gottke, didn't tell their daughters, 7-year-old Tawny and 5-year-old Brea when he would return because they thought it would be easier on them. Tawny even suffers from health problems when her father is away.
Since both Brittany and Terry are firefighters with the Wayne Township Fire Department they decided to ask them to help with their surprise. The sergeant was escorted home by fire trucks.
He surprised his girls on their front yard.
Please fill in your e-mail so we can share with you our top stories!