Journalist caught out being overly dramatic while reporting on Hurricane Florence
A reporter covering Hurricane Florence appeared to be exaggerating the strength of the wind around him as he braced himself intensely while two men behind him walked casually on the street. 
Hurricane Florence made landfall last week Thursday. Weather Channel's Mike Seidel was the man on the field in Wilmington, North Carolina that day. 
By now, we know that Hurricane Florence has been the cause of at least a dozen deaths on the eastern coast of the US. But the misleading display, which is found below, amused many on Twitter. 
Follow us on Twitter for more @amomama_usa.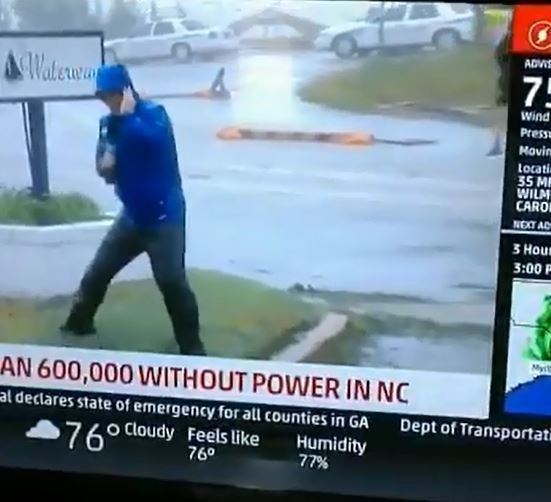 In the now viral clip on Twitter, Seidel is standing on an elevated area patched with grass. His body is positioned as if to keep it from going with the wind. 
"This is about as nasty as it's been," he said.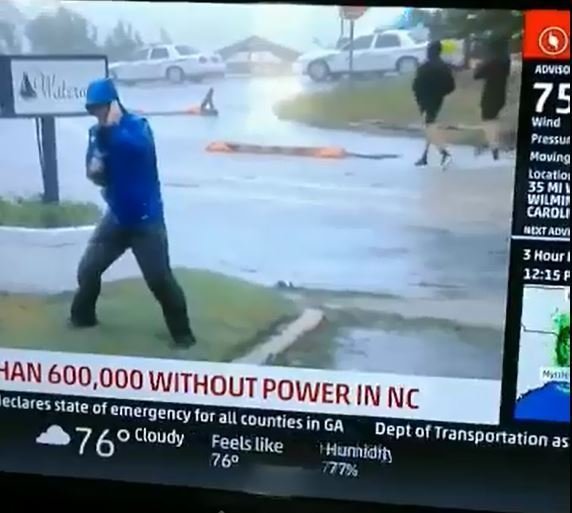 He digs his feet into the grass as he speaks to the camera. His body also moves in line with the perceived effects of the strong winds.
Meanwhile, we see two men strolling a few feet behind the reporter. They give no indication that wind is a factor in their movement as they go along their way. 
Poor guy 😂😂😂😂😂

— Eric Sin K (@Eric_Sin_KA) September 16, 2018
Users found the incident hilarious. Some called it "fake news," and others shared their own replications of such events.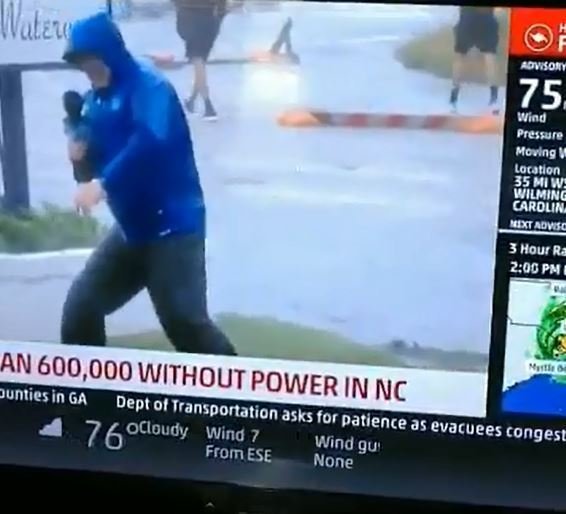 The clip has been retweeted almost 250,000 times. It has garnered over 600,000 likes. Many shared similar incidents in the past of overly dramatic reports during other weather events. 
The Weather Channel attempted to explain the actions of the reporter by saying that "exhaustion" and a difference in the surface was the reason for the difference.
According to the Daily Mail, they said in a statement to the Huffington Post:
"It's important to note that the two individuals in the background are walking on concrete, and Mile Seidel is trying to maintain his footing on wet grass, after reporting on-air until 1:00 a.m. ET this morning and is undoubtedly exhausted." 
Why to reporters reporting on hurricanes have to stand out in the wind and rain? We know that there's a lot of rain and high winds in a hurricane. Reporters reporting on a house fire don't stand in the fire.

— Barry Rudd (@BarryRudd) September 14, 2018
One user asked why reporters are even tasked with the dangerous duty of standing "in the wind and rain" during such events.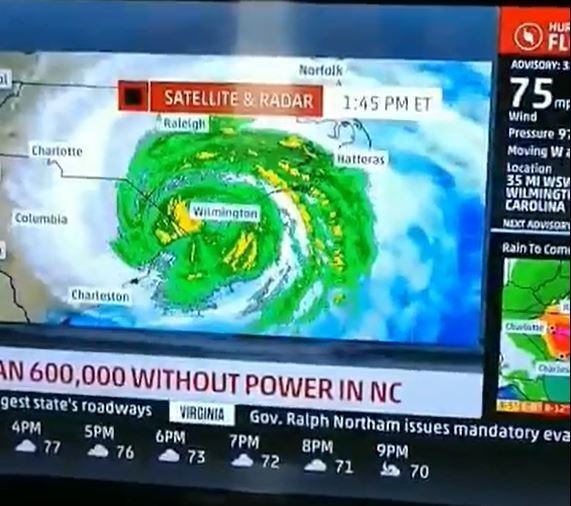 Rightly so, if there's a hurricane taking place then it's advised that no one should be outside.
But in Ireland, another reporter was supposedly being battered by the strong winds and rain of Storm Desmond as she gave her broadcast to a studio in Dublin.
So dramatic! Dude from the weather channel bracing for his life, as 2 dudes just stroll past. #HurricaneFlorence pic.twitter.com/8FRyM4NLbL

— Tony scar. (@gourdnibler) September 14, 2018
Teresa Mannion for RTE News implored persons to not "make unnecessary journeys, take risks on treacherous roads, [or] swim in the sea" in 2015.
Because she was forced to speak loudly into the mic, she sounded like she was sobbing. The internet ran with it and made several memes out of the clip. 
In an interview on "The Late Late Show," Mannion appeared to have a fairly commendable reaction to the hilarious memes as she laughed at the compilation of edited videos.