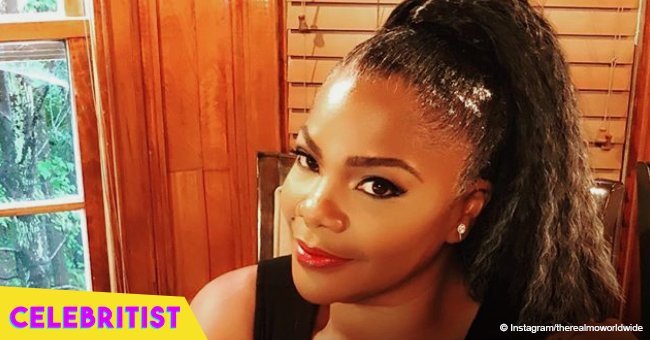 Mo'Nique flaunts slimmer back and deep cleavage in skimpy dress after major weight loss
Mo'Nique is showing her impressive weight loss, and slimmer figure in a recent photo shared to her Instagram account, and fans can't stop complimenting the actress. The 50-year-old has been encouraging other women to work hard and follow her example is they want to shed some pounds.
The "Precious" star has been showing off the astounding results of her fitness work out on social media, especially on Instagram, where she recently surprised followers with a collage of photos where she's rocking a body-hugging mini black dress.
The tight piece of clothing enhanced Mo'Nique's curves in all the right places and put her back and cleavage on display with its lower cut. The actress completed the glamorous look with black strappy heels and silver accessories, as she tied her hair into a braided bun and highlighted her facial features with an intense make-up.
"BLACK IS EVERYTHING," she captioned the pic while promoting her website "Mo'Nique Worldwide." Fans immediately flocked her comment section with praises for the actress, claiming how gorgeous she looks now that she has shed over 200 pounds.
User @marlo_catrese wrote:
"@therealmoworldwide you are definitely my inspiration my sista!!! Rock that magic that you carry baby!!! We love you!!!"
While @lanceberealMs added:
"Mo'Nique you are a very inspiring positive, motivating woman of color may God continue to bless you and your family he is not finished with you yet you still have a lot of work to do can't wait to see you up on that stage you are a funny lady [sic]."
And @delisa4real agreed:
"You are going to make me put this picture of your amazing progress on my fridge for inspiration. You look great. More importantly, you look like you are living your best life."
LOSING WEIGHT WITHOUT ANY CHEAP TRICKS
Earlier this year, Mo'Nique reached a significant health milestone, as she revealed on a clip shared to Instagram that for the first time in 33 years, her weight was under the 200 lbs. Even though there were rumors about the actress going under surgery to reach her weight goal, she denied the claims by stating that she owes everything to hard work and consistency.
"For me it was with no surgery, no pre-packaged foods, not listening to no spokespeople saying 'it's easy, you can do it.' It was just putting in the work and not giving up on me," she said on the clip.
Mo'Nique's decision to change her lifestyle came from a conversation she had with her husband, Sidney Hicks, who expressed his desire to have the actress around for a long time, something that would be impossible with her being overweight.
EMBRACING A NEW LIFESTYLE AND HER NATURAL BEAUTY
Aside from embracing her beauty and getting more and more confident with her choice in clothes now that she has a slim figure, Mo'Nique has also been embracing her natural grey hair, not bothering with dyes and letting her curls shine without hiding the fact that time is catching up with her.
The star has made of her YouTube channel the perfect place to share her work out and dance routines, encouraging talks and other tools to help women who, like her, want to make a change in their lives to look and feel better.
Please fill in your e-mail so we can share with you our top stories!