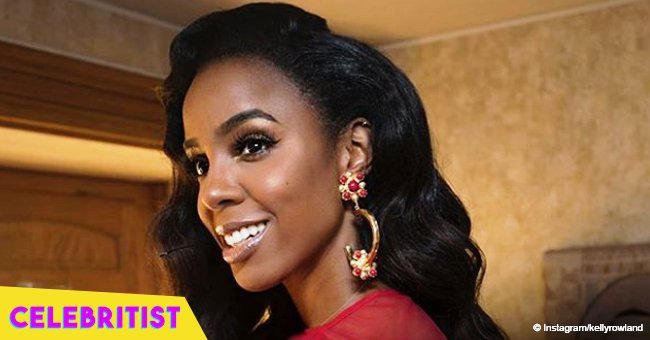 Kelly Rowland, 37, flaunts natural beauty in knotted white top & plaid pants in recent pic

Former Destiny's Child singer Kelly Rowland took to Instagram to share a photo of herself looking effortlessly beautiful in the sun. The mom-of-one has come a long way from the days of not being happy with her body.
Rowland wore a white t-shirt knotted at the midsection to flaunt her impressive abs. She paired the top with loose, grey, plaid pants that featured side ruffles. Asides from large hoop earrings and a necklace, the black beauty chose to accessorize with minimal jewelry and makeup.
For most of us, Rowland has everything going for her in the body and beauty department. However, this momma to three-year-old Titan once struggled with her appearance.
In an interview with Health Magazine, the singer revealed she was diagnosed with diastasis recti, which happens when your abs separate in the center during pregnancy.
"I looked at my stomach like, 'That is not the same girl that was on the cover of this magazine, I look different,'" she confessed. "But it was fine, it was just a new body to embrace—I think that I had to check myself."
The 37-year-old admitted the struggle it took to establish body positivity:
"How I became comfortable with my body is understanding that no one looks like me. I kept comparing myself to so many other women who didn't look like me, and I had to embrace me and all my flaws."
The "Like This" singer went further to say she maintains the positivity by taking care of her body and being comfortable with the body God gave her. She detailed her experiences in her book "Whoa, Baby!" which was released last year.
Back in May, Rowland had some golden words for anyone struggling to acknowledge and accept their beauty:
"Beauty. …is internal. If you know who you are, what you possess as an individual and don't let the rest of the world tell you who you are and what you should say and what you should possess, it makes you rate your own beauty and it makes you rate your own self. I feel like that's incredibly important to everybody that wants to be beautiful. You have to understand it starts with you."
Rowland and her husband, Tim Weatherspoon tied the knot in May 2014 and in November of the same year, they welcomed their son, Titan Jewell Weatherspoon
Please fill in your e-mail so we can share with you our top stories!