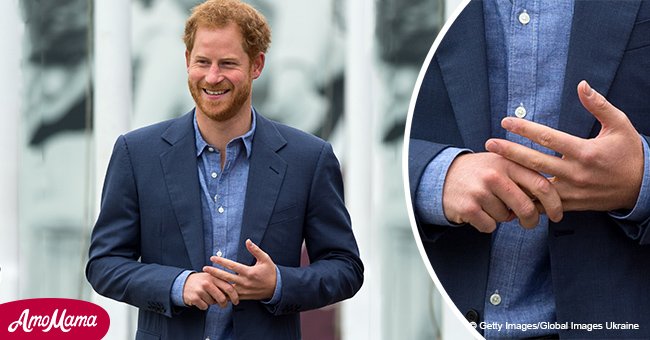 Body language expert explains what Prince Harry's fiddling with his wedding ring could mean
Prince Harry had been seen a couple of times fiddling with his wedding ring. Most recently, he was spotted frequently making the habit during a royal outing. A body language expert explained the reason behind it.
With all the responsibilities Prince Harry and his wife, Meghan Markle, had been fulfilling together, they are seldom seen without by each other's side since their wedding in May.
Although, recently, Prince Harry traveled solo for an outing related to his experience in the military.
The prince was in attendance at The Royal Marines Commando Training Centre in Lympstone, England.
Follow us on Twitter at AmoMama USA for more details and updates about the royal family.
Express UK shared that the Duke of Sussex arrived at the facility in a Royal Navy Wildcat Maritime Attack Helicopter.
During his visit, it was pointed out that the prince was frequently seen fiddling with his wedding ring.
Judi James, a body language expert, revealed the reason behind it.
She said, "Men are often seen fiddling with their wedding rings."
James suggested that Prince Harry could be missing his wife, thus displaying the habit.
"In Harry's case this looks like a self-comfort ritual performed for two reasons, when he's feeling under pressure or lonely," added James.
She also claimed that the gesture could also be an act of defense for Prince Harry.
"Firstly it allows him to create a barrier with his arms but by seeking out his wedding ring to touch and play with it suggests he's missing the back-up and support of his wife here," explained James.
The expert continued to say that it would have a different meaning if Prince Harry were to pull the ring up and down or put it on and off. Doing such could mean that the new husband and wife could be having a fight, or it might signal the possibility of a divorce.
With Prince Harry and Markle frequently displaying affections of love, it is highly unlikely that their relationship could be down in the dumps this soon.
Meanwhile, the Kensington Palace recently released the details of the royal couple's Australian tour.
They will be traveling throughout the continent for 16 days, and their schedule was said to have been wrapped around the Invictus Games.
The games, which had been close to Prince Harry's heart, annually happens in October.
Please fill in your e-mail so we can share with you our top stories!