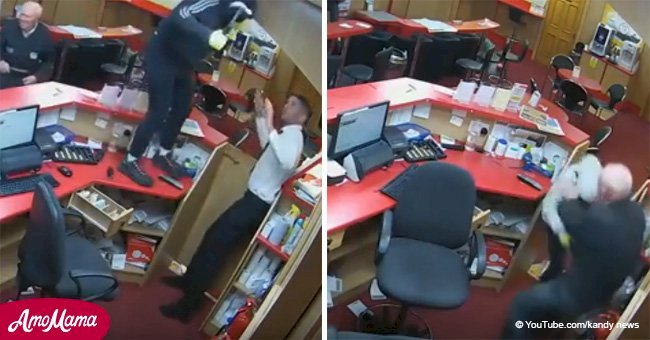 84-year-old pensioner harshly dealt with armed thugs who tried to rob bookies

A then-83-year-old man shocked witnesses at a bookies when he took down three masked men who had a gun.
The brave elder, identified later as Dennis O'Connor, sat in One Racing in Glanmire, Co Cork, Ireland last Saturday.
The video of the incident was uploaded to Facebook and can be found below. Commenters showered the older man with praise.
Follow us on Twitter for more @amomama_usa.
According to the Journal, the raiders came in at about 6:30 p.m. wearing balaclavas and equipped with hammers. At least one of them also held a gun.
Immediately, the customer next to the older man hid underneath a desk while one robber jumped over to the manager's desk.
The CCTV footage showed clearly that the 83-year-old was the first to actively step in. He boldly approached one of two robbers who were in the cashing area.
Without hesitation, he started wrestling with the unknown thug until he successfully deterred him and forced him to exit. The manager, Tim Murphy, also seemed to gain some courage.
He spoke to Cork Red FM on Monday when he described the event as a "total blur."
"I remember Denis shouting, 'You're cowards, you're total cowards.' Denis is just a total hero, when I saw him taking one of them on, he just totally inspired me."
He fought with another attacker who attempted to wield a hammer on him. The struggle overwhelmed the last thug and he ran out. Murphy explained:
"Dennis tackled one of them and I said, 'I just have to tackle this fella now as well.' "
As he left, the elderly hero made sure to give him a well-deserved kick near the door.
The trio escaped in a black saloon car that is likely an Audio A4 or a Volkswagen Passat.
Murphy said: "The noise was absolutely incredible. They were just roaring and they bashed hammers a few times."
He continued:
"I've worked in the bookies now for a long time, I've been expecting it to happen at some stage, but when it actually happens it's a total shock."
He described the robbers' demands saying, "They weren't interested in the fivers and tenners in the till, they were shouting, 'We want the safe, we want the safe.' "
"One fella jumped on the counter and the second fella tried to jump on it and he couldn't make it but he came round the counter door, it was quite intimidating."
Thankfully, "Once they were taken on they totally backed down," Murphy explained.
The police are now requesting information or witness accounts of the three men in the Riverstown, Glanmire area between 6 and 7 p.m on Saturday.
They are also appealing for any mobile phone or dashcam footage during that time.
We hope that the men are found or turned in by someone who knows them, just like this lady did to her son who acted like a thug back in July.
The 20-year-old had punched out a 53-year-old at a nightclub in Essex, London. HIs mother, Cathy Holmes, defended her son but still saw it fit to turn him in.
She said he's not a "terror" and had been helping her out at her floral store after her brain tumor surgery. The young man voluntarily went to an east London police station where he was later released.
The injured lady went to a hospital and was subsequently discharged as well.
Holmes says that the clip of the incident is only a "fraction of the real story." She is imploring the police to get access to all the CCTV footage. Meanwhile, the investigation is ongoing.
Please fill in your e-mail so we can share with you our top stories!