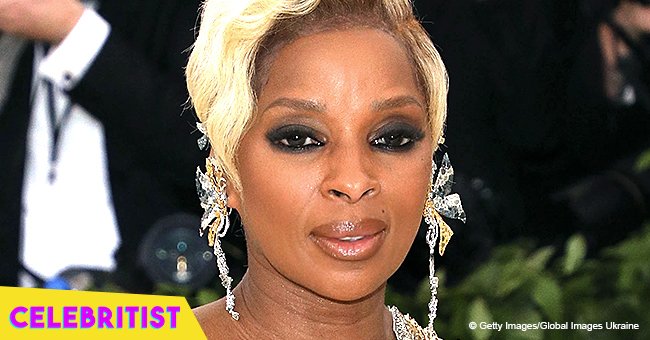 Mary J. Blige turns heads in tiger-print sweater, jeans and high-heeled boots in new pic
Mary J. Blige has perfected, through her fashion style, the way to express her youthful soul without losing the glamour that has always characterized her. The Queen of R&B had a chaotic year, but she is looking better than ever, as seen in her recent Instagram post.
The "Mudbound" star has been pretty busy these days, filming a new movie, attending awards and fashion shows, and taking care of her figure while still promoting her music and working on her other endeavors. However, Blige still looks effortlessly gorgeous and fashionable in her social media pics.
Her most recent Instagram post left fans wondering how the 47-year-old singer can maintain such an ageless beauty and attitude. Wearing a tiger-print sweater, high waisted jeans and high heeled knee boots with a Fendi print on the side, Mary stunned her fans and followers by posing in front of wooden doors with a hand on her waist and an imponent stance.
"Every picture you share is exquisite and elegant, thank you for sharing my love," wrote a devoted fan on Blige's comment section. And another added, "My Girl still holding it down for the Grown & Sexy 40's club easily."
A BITTER DIVORCE
Earlier this year, Blige settled her divorce with Kendu Isaacs, her husband of 12 years, outside of court. They had been fighting for a settlement since early 2016, and Blige had been ordered to pay $30,000 per month to Isaacs in temporarily spousal support.
Credit: GettyImages/Global Images of Ukraine
While the details of their settlement remain being confidential, is known that Kendu was asking for at least $130,000 per month in spousal support. According to The Blast, the man alleged that he was "unemployable" and couldn't pay his debts without the money from the spousal support. He also stated that the divorce had caused him "emotional and physical distress" which caused him to become hospitalized.
Speaking to Variety after the split, Blige confessed that although she was doing "okay" it took a lot of effort for her to come out of her misery at the time. She used "Mudbound" as a scapegoat for her emotions, dumping into her character, Mary, all the sadness and anger she felt.
She said:
"I'm living. I'm not happy about a lot of things. I thought someone loved me, right? Turns out, he was a con artist, and he didn't, and now he's coming after me for all my money. When you come out of something like that, you realize you were never the one. There was someone else that was his queen. I got played. I got suckered. I have to keep smiling and keep my spirits up because this is designed to kill me."
BLIGE'S FITNESS SECRETS
These days, however, Blige is focusing on herself and working hard to feel and look good. She recently shared her beauty secrets with Shape magazine, revealing that her main exercise is cardio and that she's following a low carb diet with no sugars, gluten or dairy in it. Alcohol is also out of the equation:
"Others may be able to drink and have a great time, but it doesn't work for me at this point. I haven't had a drink in a year and three months," she stated.
Please fill in your e-mail so we can share with you our top stories!