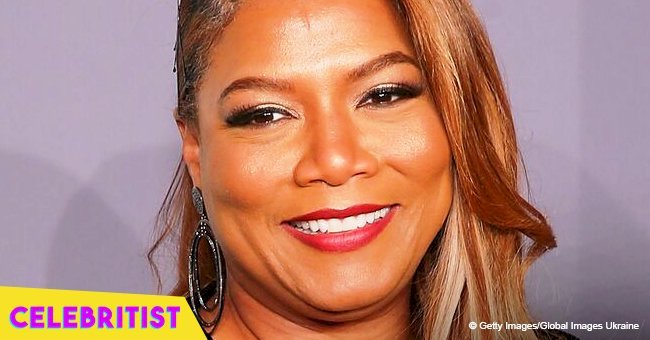 Queen Latifah flaunts her burgundy hair & matching lipstick in grey fringed jacket in new photo

"Star" actress, Queen Latifah took to Instagram to share a photo of her new look in a formal ensemble. The entertainer had asked people to call her "Doctor" in May, and for a good reason too.
Latifah was pictured in a grey blazer with fringe detail. She wore a black top that was partly visible under the jacket and paired it with denim pants.
Her hair and lipstick caught the most attention with their burgundy hue. Latifah asked folks to call her "Doctor" some months ago, and in this latest picture, she does look the part.
Earlier in May, the Grammy Award-winning rapper received an honorary doctorate in fine arts from the Rutgers University, Newark. Speaking at the campus which is coincidentally located in her New Jersey hometown, Latifah implied that she was done being confused.
"I'm always asked by people what should I call you? Queen? Latifah? Dana?" she began. "After today, you can just call me doctor," she finished playfully.
But the "Living Single" alum also got serious with the graduating students and stressed the importance of home:
Reminding them of her roots, she explained:
"I'm a Jersey girl, born and bred ... I couldn't be more proud to be one of Newark's own today, this is home. Today's Newark is stirring again, stirring because our greatest export was never a product, it's always been the people. People like each of you -- unique, strong, creative individuals."
Born Dana Elaine Owens, Latifah was born in Newark, New Jersey where she grew up singing in the church choir. She went on to score her public performance in a school production of "The Wizard of Oz." She played one of the two Dorothys and got to sing a version of "Home."
Latifah, who got her stage name from a Muslim cousin, created a rap group during her junior year in High School. Initially called "Ladies Fresh" and later, "Flavor Unit," the group owed their success to the support and encouragement of Latifah's late mother, Rita Owens.
For Latifah, home played a significant role in who she is today, which is what she was trying to relay to the graduating students.
In rounding off her speech, the 48-year-old advised:
"Graduates, home shapes you, make sure you shape it back. Take a chance on that next kid who comes along the way, the way someone took a chance on you, the way someone took a chance on me."
Please fill in your e-mail so we can share with you our top stories!