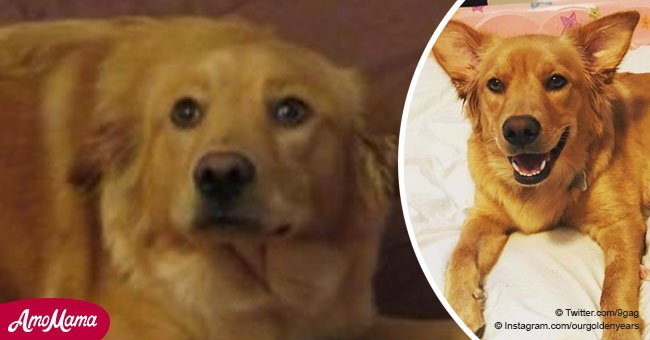 Mama dog Rosie looks shocked after giving birth to four baby 'cows'

A lovely pregnant dog was taken to a refuge, but when she gave birth her puppies surprised everyone, even herself.
When Rosie, a golden retriever mix, arrived at the Golden Retriever Rescue of Neuse River, she was pregnant and had a big belly.
The volunteers were relieved that this beautiful golden retriever mix was rescued in time for her to get the help she needed. Katie and John Black, two dedicated dog friends, took Rosie to their house before the big day.
According to Rare, the couple anticipated a large litter since Rosie had a really big belly. But they didn't expect what would happen when the time came for Rosie to give birth. They had never seen anything like this!
Rosie had four beautiful and healthy puppies, but they looked nothing like her mother. It turned out that Golden Retriever puppies were not as golden as expected. They looked more like cows! Read more on our Twitter account, @amomama_usa.
The puppies were white with black or brown spots. Everyone who saw the puppies thought it was the strangest thing they had ever seen in their lives. However, her caretakers said that "She's a proud mom."
As the puppies looked like little cattle, Katie and John decided to give the puppies "classic cow names", so they named them Daisy, Betsy, Clarabelle, and Moo. And even if they do not know who the dad is, Katie and John are sure that he is far from being a Golden Retriever.
For now, Katie and John are helping Rosie take care of her puppies. Then, when the puppies are old enough, they will be given up for adoption and will find a new home for their mother too.
It's incredible to see how moms bond with their babies and care for them, like this dedicated mom dog that was rescued along with her puppies and her overwhelming reaction, melted the hearts of everyone who saw her through social media.
In the short video of 13 seconds, you can see how a tear escapes from the dog's eye while breastfeeding her puppies. She is then caressed tenderly by a woman.
The momma dog's tears mobilize the animal lovers and permeated those who felt empathy for the fact that it's a mother who had been rescued with her children while they were beginning a new life.
Please fill in your e-mail so we can share with you our top stories!