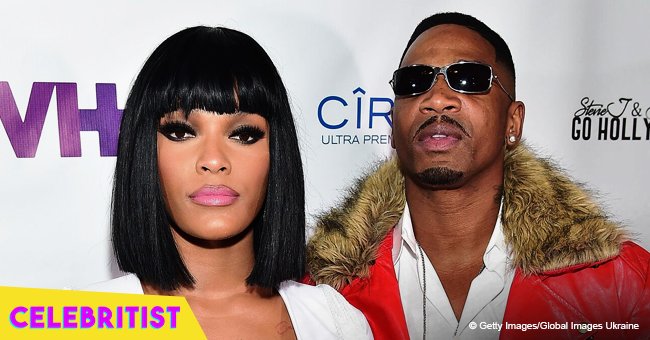 Joseline Hernandez shares romantic photos with rumored new man after ex Stevie J got married

TV personality Joseline Hernandez, best known for "Love & Hip Hop: Atlanta," took to Instagram to share a photo with a man who is probably her new boyfriend.
In the image, the mother of one appeared sitting in a pink pool chair wearing a two-piece swimsuit and flip-flops while holding a glass of wine and laughing. In front of her, a man was wearing white socks, swimming shorts, and a sleeveless white shirt.
He was also holding a cup of wine and laughing, proving that they were having a good time. The reflection in the mirror behind them showed several palm trees, what suggests that they were somewhere near the beach.
For the caption, Joseline wrote: "Have an amazing tour Lion King! 21 days," followed by sad-face emoji and the Instagram account of her companion, Canadian rapper Tory Lanez.
ANOTHER PHOTO OF THEM
Even though the previously mentioned image and caption might not completely disclose a romance, the first photo that Joseline uploaded showing both of them sparked the initial rumors for that assumption.
It portrayed Joseline wearing the lower part of a swimsuit sitting on the floor by a pool between Tory's legs. The man, who grinned from ear to ear, was using his hands to cover Joseline's bare breasts.
WAS SHE TRYING TO MAKE HER EX JEALOUS?
As soon as those two photos hit the internet, people started saying that Joseline was trying to make Stevie J, her ex-fiancé, jealous. However, some others added that it was a lost cause as Stevie is married and has moved on already.
JOSELINE SLAMMING STEVIE
The "Puerto Rican Princess" revealed that Stevie, the father of her one-year-old daughter Bonnie Bella, has not fulfilled his duties as a father as the toddler was not getting regular child support and he hadn't visited her in several months.
Apart from that, Joseline has been sharing several messages on social media attacking Stevie after it was revealed that he and Faith Evans got married.
One of the most memorable things Joseline did was posting a screenshot of a conversation she and someone very likely to be Stevie had about one month before he and Faith got married. In it, he proposed to her, but she said no as she was trying to marry someone else. The TV personality deleted the photo.
Please fill in your e-mail so we can share with you our top stories!