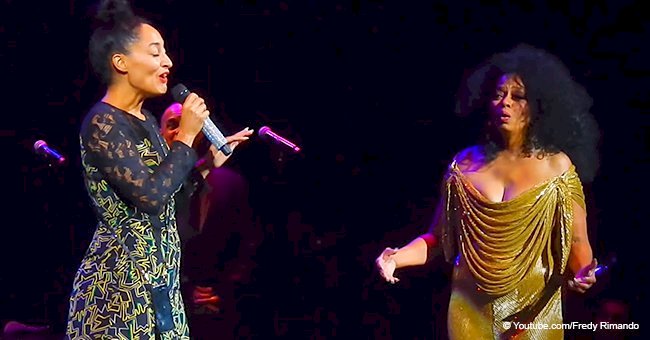 Diana Ross' powerful duet with daughter Tracee Ellis Ross still gets hearts pumping
Tracee Ellis Ross, the daughter of legendary singer Diana Ross, went on stage next to her mother to sing Billie Holiday's "Lady Sings The Blues."
Even though Tracee chose to be an actress instead of a musician, Diana asked her to join her onstage during a concert held in Las Vegas in 2015. The actress uploaded a short video showing her and her mother in front of the crowd.
The clip portrayed Tracee wearing a short black dress with many green and white details, while her mother opted for a beautiful, shiny, yellow dress that made her look gorgeous.
For the caption, Tracee revealed that she didn't expect that. She added that the last time Diana asked her to sing was when she was five or six years old.
The actress said that she thought Diana was calling Evan Ross, Tracee's singer brother, but the living legend was asking her daughter to join her. Tracee published the rest of the story on her website.
"I still get nervous all the time but I never let it stop me and I'm certainly not afraid of performing. But, somehow, by the time I stepped onto the stage it was as if I was 6 years old again! There's something about singing… It's no joke trying to do that as the child of DIANA ROSS, let alone while standing by her side onstage," confessed Tracee.
Diana showed her support the entire time as she even told the crowd that Tracee could sing very well, but she wouldn't do it. Finally, the actress "buried" her head into her mother's shoulder.
Tracee added that it was the best part of the entire moment and that it had been ages since she had hidden so deeply in her mother's arms, pointing out that it was awesome.
That was not the only time Tracee has uploaded videos to her Instagram account regarding the music as she recently showed off her singing skills singing next to Jenifer Lewis.
The clip portrayed Jenifer, best known for "Black-ish," explaining Tracee what to do, to say, and to sing before starting their performance.
Diana's daughter was using her braids as music instruments while singing Aretha Franklin's "Rock Steady" next to Jenifer. The pair started laughing, and the video ended up showing Jenifer "slapping" Tracee in the face.
Please fill in your e-mail so we can share with you our top stories!