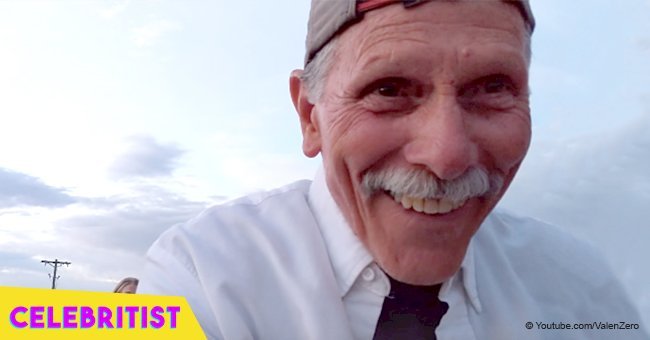 Adorable grandpa accidentally films his reaction instead of a proposal in viral video

A grandfather was tasked to film an engagement only to realize later he filmed the whole thing on selfie mode.
John Hart was attempting to capture a marriage proposal on video when he realized he was filming his reaction the whole time.
Hart, a 71-year-old grandfather was visiting the Sandia Peak Tramway when he met the couple whose engagement he would later be asked to film. He even predicted the engagement would happen when he suggested to the couple the tourist spot in Albuquerque, New Mexico was an ideal spot for a proposal. Unbeknownst to him, that was exactly the man's plan.
Right before the proposal was about to happen, the man, Christopher, handed his phone to Hart so he could capture the moment on video. Being a former Navy photographer, Hart was confident he could get the job done. However, Hart didn't take into consideration that the cell phone camera is two-way. He learned that later after he discovered he filmed the entire engagement in selfie mode.
In the adorable clip that has now gone viral, it was Hart's reaction to the ongoing proposal that was captured. With a smile on his face, he says, "Oh, that's cool" as the crowd behind him cheered on the newly-engaged couple.
At one point, he tells the groom-to-be,
"Christopher, I didn't know that it was going to happen but I sure said something."
Christopher responds, "I wanted to tell you so bad," as Hart continues to film himself. He then urges Christopher to "give her that ring and give her the biggest smile," all the while thinking he was covering the whole thing.
It didn't take long before his family who was with him discovered his blunder and pointed it out to him. Hart's surprised and embarrassed reaction was as precious as what he intended to film. Here's the whole footage of the engagement in Hart's point of view.
Another grandfather who graced headlines last year stole hearts because of his relationship with his granddog. He babysat the dog for his daughter and made sure she was updated of their whereabouts through text. As he texted his daughter, he pretended he was the dog speaking, referring to her as his mom. The adorable text messages of dog to mother were so amusing, grandpa was an instant hit.
Meanwhile, a more energetic grandfather became the subject of a viral video when he challenged two younger men to a break dance showdown. He showcased impressive footwork and even did "the robot" and the "moonwalk," impressing the crowd around him that cheered him on. He was clearly a dancer in his younger years but he certainly proved he hasn't lost his groove.
Please fill in your e-mail so we can share with you our top stories!